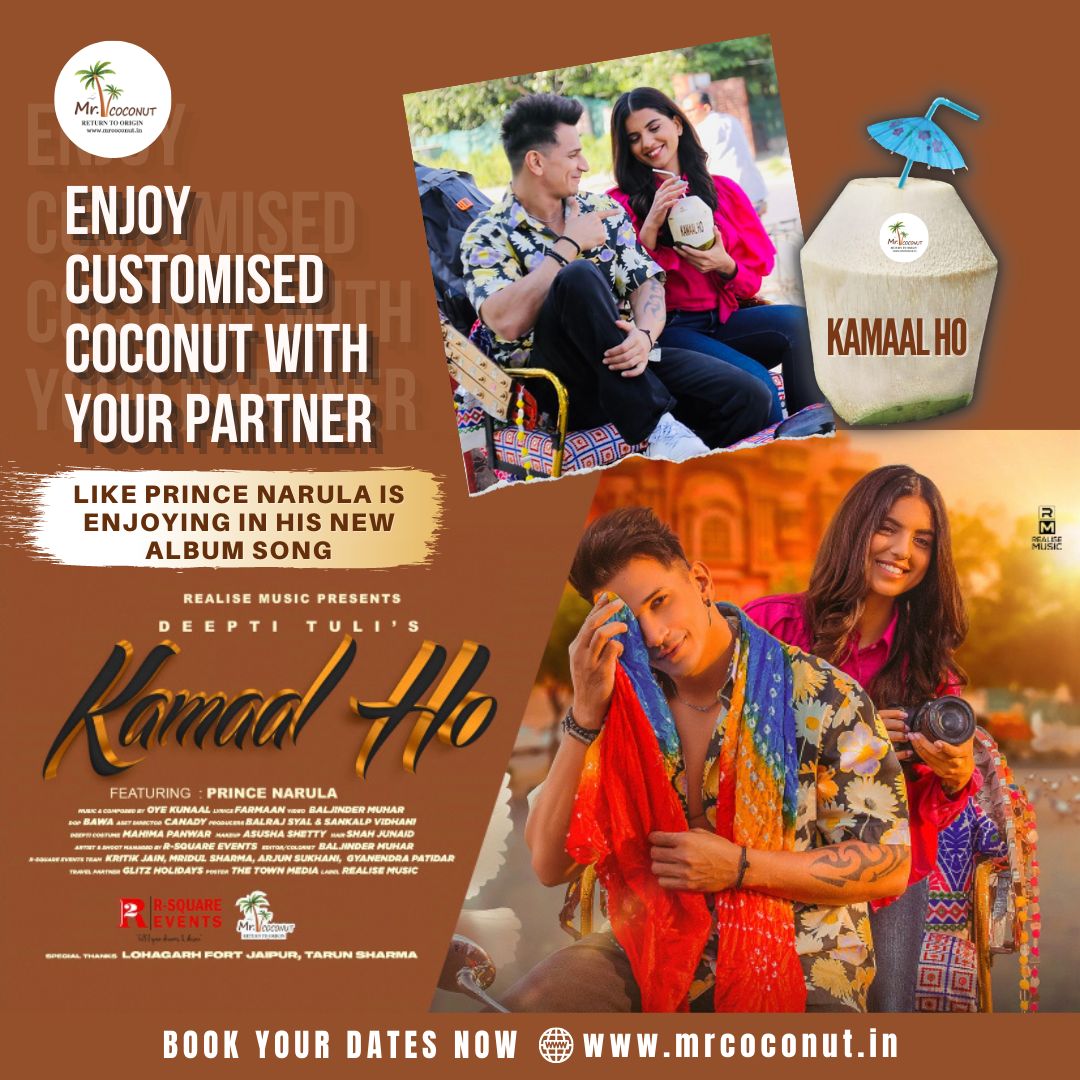 Kamaal Ho: Prince Narula & Deepti Tuli's Latest Song Featuring Mr. Coconut is Here!
Posted by : Mrcoconut / On : Feb 04, 2023
Prince Narula and the singing sensation Deepti Tuli collaborated for a soulful Punjabi song titled "Kamaal Ho". Mr. Coconut's masterfully carved coconuts played a cameo in this groovy song adding a unique element to it. Check out all the details of this amazing collaboration between Prince Narula, Deepti Tuli and Mr. Coconut!
Punjabi music has always been a favorite amongst music lovers worldwide. With its foot-tapping beats, soulful lyrics, and energetic performances, it never fails to lift up the mood of the listeners.
Realise Music, the leading music label, is proud to present its latest song, Kamaal Ho, featuring Singer Deepti Tuli and Prince Narula. This Hindi-Punjabi song instantly became a hit amongst the listeners.
Mr. Coconut added a unique element to the song with its intricately personalized coconuts. Read on to know all about this amazing song and Mr. Coconut's collaboration!
Kamaal Ho: A Deepti Tuli and Prince Narula Collaboration
Kamaal Ho is a soulful Hindi-Punjabi song that is sure to leave an impact on the listeners. The song is sung by the talented Deepti Tuli and features Prince Narula. The lyrics of the song are penned by Farmaan, and the music is produced by Realise Music.
The song has received positive feedback from listeners and music enthusiasts alike, and it has become one of the most popular songs of the year.
Kamaal Ho Song Shoot at Mr. Coconut Café Jaipur, Forts & Resorts
Mr. Coconut's elegantly crafted Printed Coconuts were used in the song skillfully as a prop to make the song interesting and unique.
The song was shot across beautiful locations in Jaipur like:
Mr. Coconut Café at Jaipur Cafe
The groovy song was also shot in the beautiful cafe of Mr. Coconut located in Jaipur. Mr. Coconut also provided customized coconuts for the song by engraving the title of the song "Kamaal Ho".
You will see our personalized coconut being offered to Deepti Tuli by Prince Narula in the song while they are exploring the beautiful city of Jaipur on a rickshaw.
Hawa Mahal – The Palace of Winds
Hawa Mahal, also known as the Palace of Winds, is a stunning palace located in Jaipur, India. Built from red and pink sandstone, it was constructed in 1799 by Maharaja Sawai Pratap Singh and is considered a landmark in the city due to its rich cultural and architectural history.
Nahargarh Fort – Stunning Indo-European Architecture
Nahargarh Fort is a magnificent architectural wonder that stands on the edge of the Aravalli Hills, overlooking the city of Jaipur in the Indian state of Rajasthan.
Lohagarh Fort Resort
Lohagarh Fort Resort is a unique and luxurious hotel located near Jaipur, known for its traditional Rajasthani architecture and ultra-lavishness. The resort offers a perfect combination of culture and comfort.
Prince Narula: King of Reality Shows
Prince Narula is a popular television personality and rapper, who has made a name for himself in the entertainment industry.
Prince Narula first made a big splash in the entertainment industry when he won MTV Roadies 12 in 2015. This was followed by another win in MTV Splitsvilla 8 in the same year. He continued his winning streak and went on to become the winner of Bigg Boss 9 in 2015-2016 and Nach Baliye 9 in 2019. With his charming personality and great performance skills, he quickly became a fan favorite and was known as the "King of Reality Shows."
With Kamaal Ho, Prince Narula has once again shown his versatility, this time as a featured artist in a song. His performance has been well received by the listeners, and it has further solidified his place in the music industry.
Deepti Tuli: The Voice Behind #KamaalHo
Deepti Tuli is a talented singer, who has made a name for herself in the music industry. She has been a part of several popular songs and albums and has won the hearts of many with her soulful voice.
Deepti has worked with several popular musicians, including Balraj Syal, and has received widespread recognition for her work. With Kamaal Ho, Deepti has once again proven her versatility and musical abilities, making it one of her best works to date.
Mr. Coconut – Making Songs, Events and Weddings Delightful!
Mr. Coconut is India's Most Trusted Brand for Personalized Monogram Coconuts. At Mr. Coconut, we seamlessly customize the coconuts according to your event, theme, song or design needs.
Simply share your design requirements with our professionals and they will offer different customization options like:
Classy Monogram Designs
Trendy Hashtags of Events
Logos of the Function
Pictures of the Event, Wedding or Marriage Celebrations
Personalized Coconuts are the Perfect Natural Beverage for Events
Mr. Coconut provides fresh and tender coconut in elegantly designed Stamp coconuts boasting rich amounts of antioxidants, low calories and healthy proteins. Offer a quick detox to your guests and attendees instead of serving sugary or carbonated drinks.
Get in touch with Mr. Coconut today to make your songs, corporate events, weddings and marriage celebrations unique, refreshing and delightful!