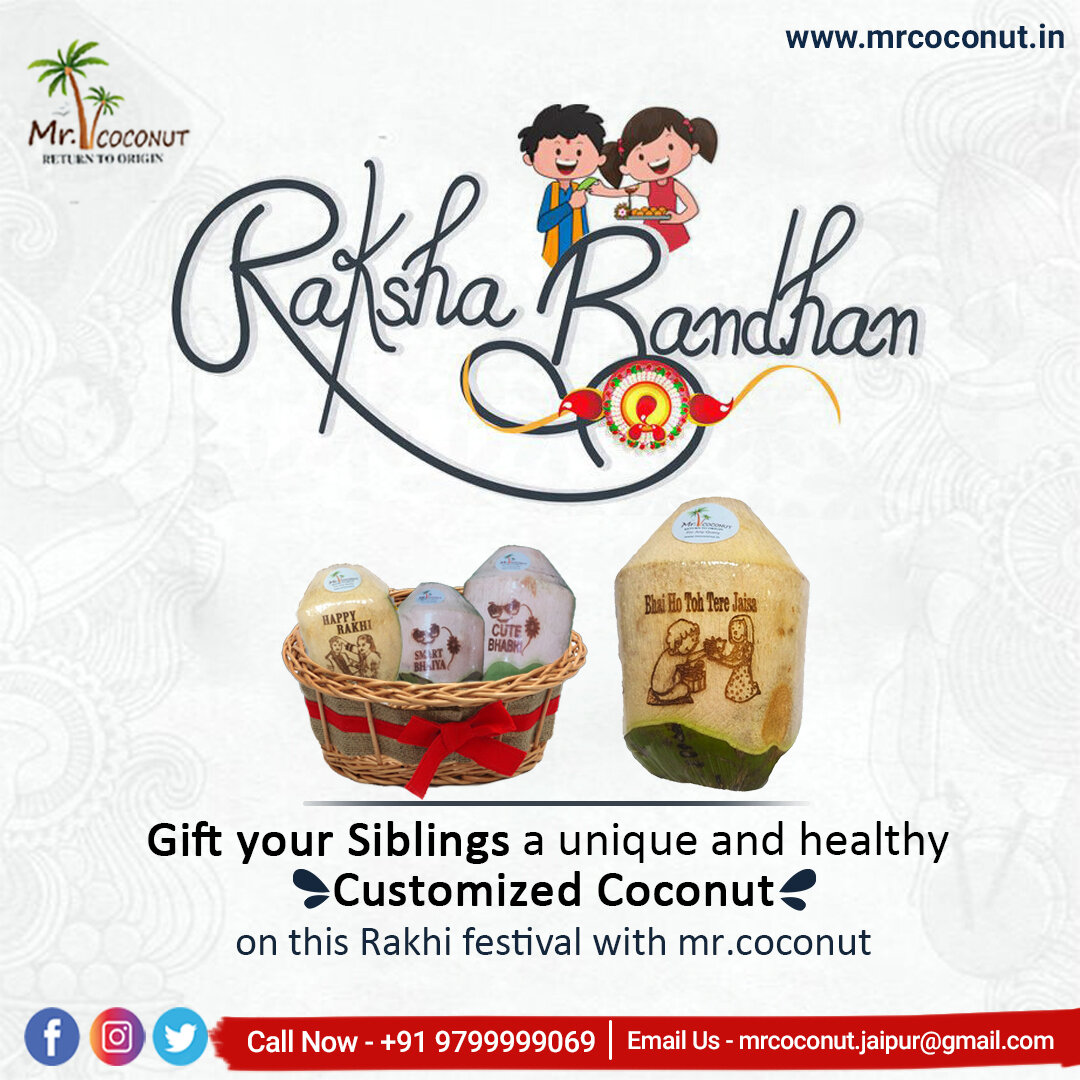 Gift a Personalized Coconut to Your Sister on this Raksha Bandhan
Posted by : Mrcoconut / On : Jul 20, 2022
Raksha Bandhan also known as "Rakhi" festival is a hugely popular event that highlights the bond of a brother and a sister. Usually, on this festival, a sister ties a rakhi (a knot symbolizing protection) to a brother and in return, she receives a gift which could be chocolates and jewelry amongst others. But, what if you could make the occasion unique and memorable by gifting a personalized coconut?
Mr. Coconut, a leading brand for Carved coconut offers this amazing service where you can personalize the coconut according to your preferences.
Want to know more about this personalized gift idea? Then read on to find out!
Customized Coconuts – A New Concept for Raksha Bandhan

If you look at the common rituals of Raksha Bandhan, you will find the following:
The sister ties a rakhi (amulet/thread) to the brother (to symbolically protect them).
In return, the sister receives a gift which could be money, sweets, chocolates and jewelry amongst others.
Many times, sisters even go fasting for their brothers so that they can have a long life and receive the choicest blessings.
You will also come across other rituals which include the Tilak ceremony, Aarti and the Rakhi Puja Thali.
And this is where you can make things interesting!
Instead of going for common gifts like money, chocolates or other chemical-based sweets, you can give your sister a healthy gift in the form of Customized Coconut Water at Raksha Bandhan.
Nobody would expect you to do it and the uniqueness quotient of a customized coconut will take everyone by surprise!
Different Ways to Personalize Coconut for Rakhi Festival
Here are some interesting ways to customize coconut for this Raksha Bandhan:
A picture of you and your sister
Memorable moments with your sister (in the form of carving/stamping)
Names of you & your sister (carving/stamping)
Picture of your family or any other designs that you have in mind
Mr. Coconut is a reputable company that offers this unique coconut customization service to clients across India.
Mr. Coconut is already providing Carved and Stamp coconut to various clients for weddings, ring ceremonies, birthdays and other events.
Did you know? Mr. Coconut also offers to set up a unique coconut water stall at events like marriages, birthdays and baby showers amongst other functions.
So, as you can see, Mr. Coconut brings a lot of expertise when it comes to customized coconuts for events. Want more?
You Can Order Personalized Coconuts in Bulk!
Have a couple of sisters and cousins coming up to your home for the Rakhi festival? Then you should go for a bulk order!
Mr. Coconut can handle bulk orders not just for special events like Rakhi festival but also for weddings, parties, birthdays, baby showers and other functions!
Simply connect with Mr. Coconut's team to share your unique customization requirements and they will take care of the rest!
Make Rakhi Festival Memorable with Personalized Coconuts!
With a wide range of customizations and flavored coconuts available, you can easily make this Raksha Bandhan memorable for your sister and family.
Simply reach out to Mr. Coconut for customizations and they will take care of the rest!
And who knows this could become an annual Rakhi tradition that you can share with your sister, friends and colleagues!