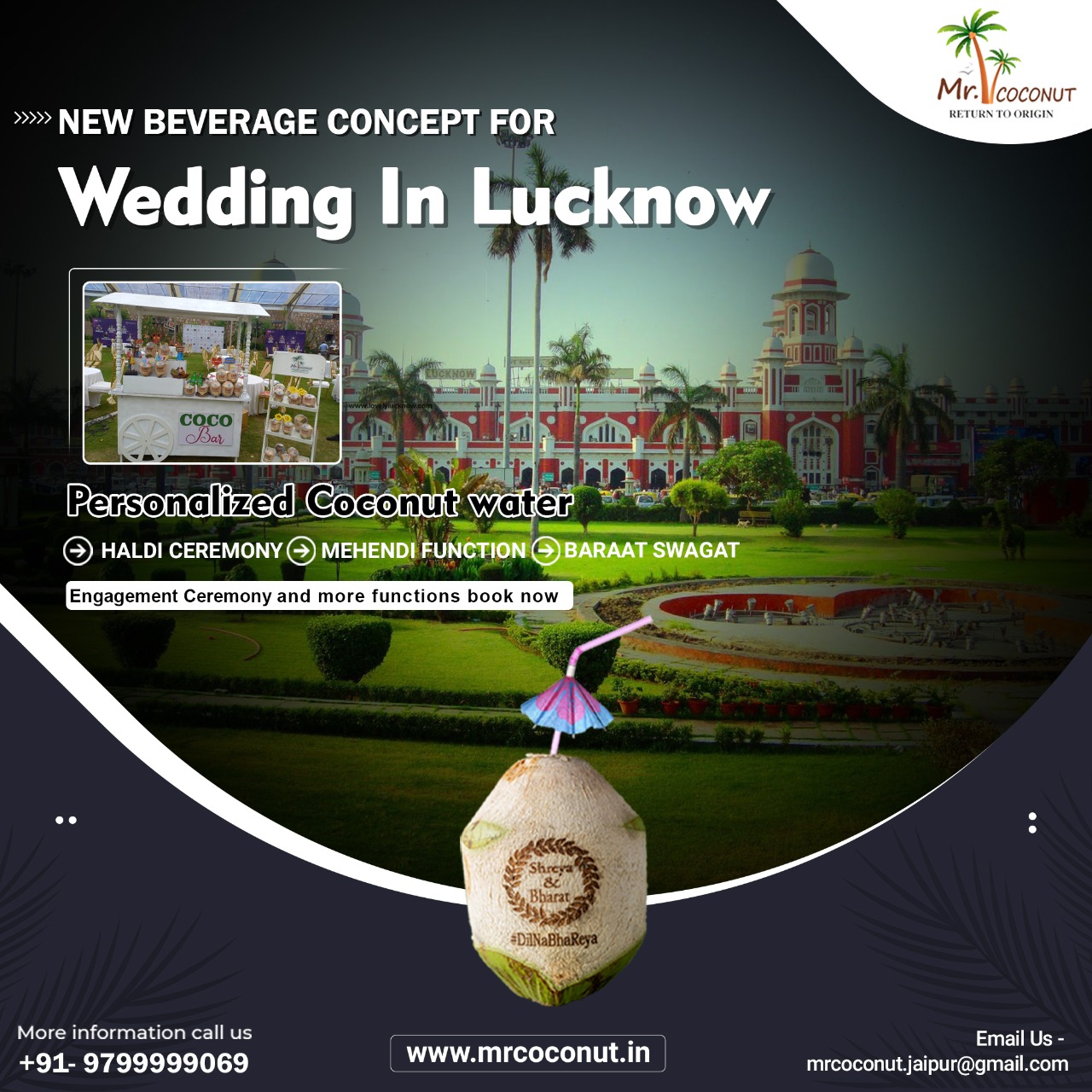 Experience the Nabawi-style destination wedding with Mr. Coconut
By: Shivam Agarwal,

CEO & CO-FOUNDER MR COCONUT

| 29 August 2022
Lucknow was once known as the administrative and cultural hub of the Nawabs of Avadh (Oudh), but now it is one of the most popular wedding destinations among millennials. Lucknow, known as the "City of Nawabs," is located along the banks of the river Gomti. Today it is a seamless combination of medieval and modern, with historical monuments standing side by side with corporate buildings, luxury hotels, shopping malls, and shopping centre's. World food lovers are already very familiar with its cuisines, including Awadhi and Mughlai.
Let's check what thing makes the "The City of Nawab" amazingly hopeful and promising for the couple and their family member for choosing a destination wedding in Lucknow
A well-connected wedding destination for your guest
Almost all cities of India are well-connected to Lucknow by air or road It has become an extensive destination of convenience thanks to the Taj express highway, a 55-minute flight from Delhi, or the two central rail routes connecting it to the capital city. The city apart from using the fleets of Ola and Uber, the city boasts a newly well-maintained and inaugurated metro system that connects you with all major areas.
Give the Nabawi experience of Indian Hospitality to your guest
The city of Lucknow has experienced rapid growth in recent years and has all major international hotels, including Accor, Taj, Marriott, Hyatt,Best Western, Radisson, Golden Tulip, Hilton,and our Wyndham hotel. To name a few renowned Indian hospitality brands, there is Sarovar, Lemon Tree Group, Fortune, Ginger, and ITC Clarks. The room charges floatacross INR 3000 – 5000. In addition to the branded hotels, the city also has plenty of boutique non-branded hotels with a royal influence. A popular travel portal reports that 193 hotels are open as of now. However, this number does not include the lawn with the room, wedding halls, and private clubs where the weddings are being held. But don't worry there are many luxurious and grand wedding places that are there to give your wedding a nawab touch and let your guest experience the Nabawi feeling in the city of Nawab.
Serve traditional and authentic food variety to your guest.
Making your guest happy is the priority of any host and the food is the only thing. It's no secret that Lucknow is ideal for foodies, as it's the land of the Nawabs and Awadhi cuisine! In lavish hotels, you will find a plentiful spread of delicious dishes, from chats to kulfisorbiryani to kebab. A lavish display of sounds, sights, and smells in the haughty city of Nawabs showcases not just the advancement of Indian cuisine, but also the uniqueness of the Indian way of life. On all returns, a blessing awaits! Lucknow is a paradise in every sense for foodies, whether you go for the dishes at hotels or street food on the road. It is a magical city if you get lost for a few days. You'll discover which narrow alley will lead to food heaven. There's nothing quite like the food, smell, and air of this city. There is no end to the delicacies catering available at a wedding. Lots of star hotels offer buffets to their guests. So, serve them authentic and traditional Lucknow-style food and impress them.
For those looking for the idyllic wedding venue that is covered in flowers, where their vows can be exchanged under a floral arch dome and their wedding feasts will be served at beautifully decked up ceremonial tables accompanied by chic royal décor, Lucknow offers all royal and luxury choices. From Sangeet/Tilak or Mehendi/Sagai to the ambiance of your loved ones, hotels and venues usually have their own enlisted event partners and wedding planners or you can book your own.
Complete your Nabawi-style destination wedding with a tropical touch
Wedding planners and vendors will always go the extra mile to help you fulfill all your wedding needs. Most of the luxury hotels have wedding coordinators attached who are responsible for organizing & planning everything from the photographer, and florist, to the wedding Favours, DJ, Dhols, band, transportation, decoration, and to amenities in the rooms for your guests so that you can enjoy and relaxthe wedding event to the fullest. They can also add Mr. coconut services to give your wedding a personalized touch through their amazing, customized coconut water service. With their new beverage concept, you can add a tropical theme to any function of a Lucknow-style wedding. Their Cocobar services provide an amazing style of healthy and tasty mocktails that detoxed your body and energies you to enjoy in wedding functions.
Mr. coconut carved coconut not only helps them to set up a new beverage stall, but you can also use stamp coconut as a wedding favor for the guest. Yes, you hear right you can customize in any design, or theme if you want to engrave the theme of the wedding or the picture of the bride or groom or anything they engraved the design on the young coconut shellwhich is fresh and healthy, then don't worry you can opt it as your wedding favor people will love this andalways remember your wedding for the lifetime whenever they arrived at any wedding. So, include Mr. Coconut with Lucknow style food catering for your guest that makes them enjoy your wedding in royal and luxury style.
In the end, Lucknow has been known for its culture, gracious living, and rich cuisine for centuries, this phrase conveniently rhymes in Hindi: Nawab, Aadaab (respect), Kebabs, and Shababs (beauty) - so when searching for a destination for your wedding, Lucknow is a good choice.