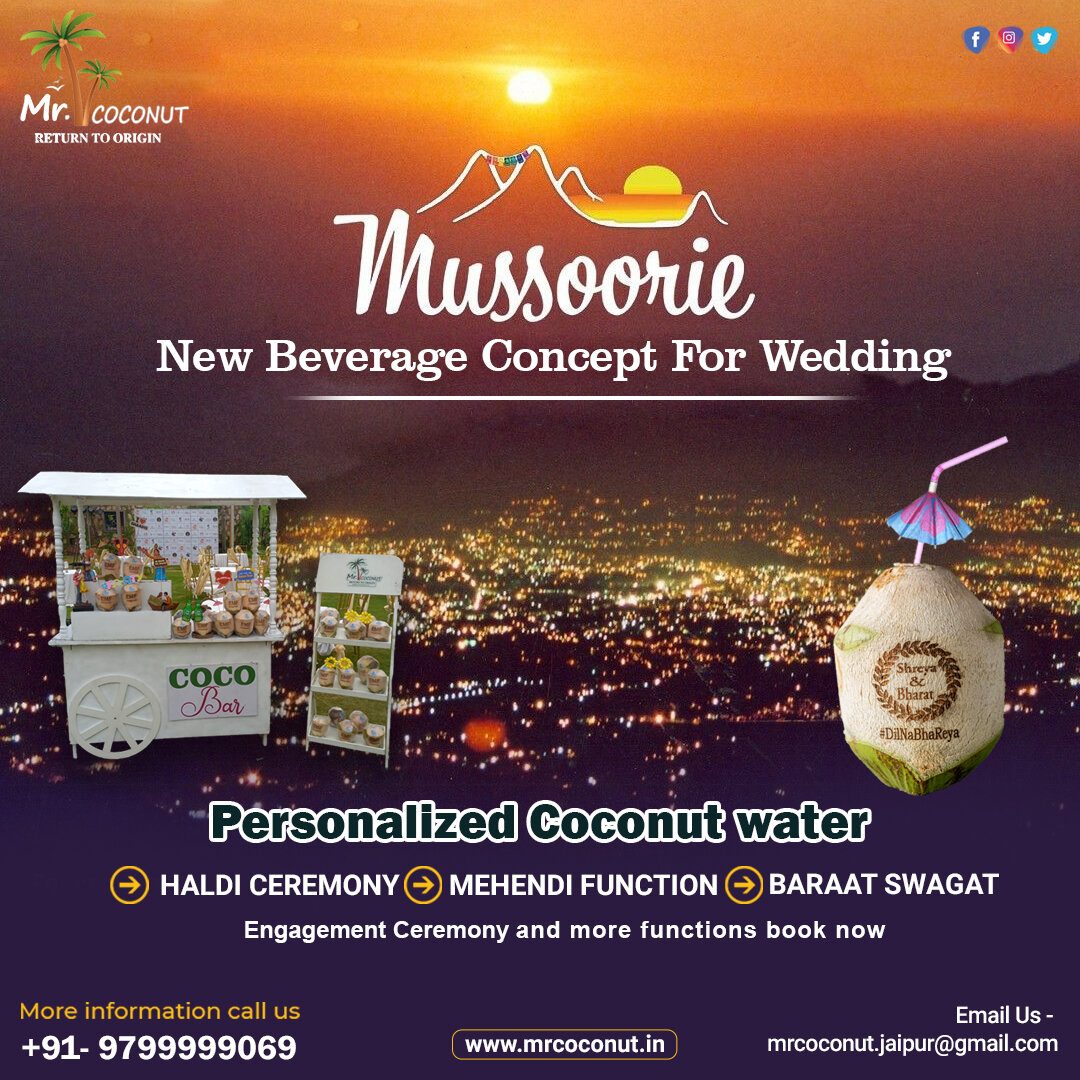 A destination wedding in Mussoorie with Mr. coconut
By: Shivam Agarwal,

CEO & CO-FOUNDER MR COCONUT

| 05 September 2022
It is the desire of most of the couple to hold their wedding at a destination. That was a fantasy world far removed from the usual scenarios of those magical days. The most memorable and heart-warming moments will be etched in everyone's minds and hearts from destination weddings in Mussoorie. When it comes to destination weddings, there's so much to think about. First, there's the destination, then the venue, then the event management, and so on.There is no better place to visit than the marvellous artistic beauty of Mussoorie. There is no such thing as a little dream, and every little dream must be fulfilled as well. In the same way, marriage is the union of two individuals who promise to be together for the rest of their lives. Two beautiful souls joining together in marriage is surely a sanctified bond. For beautiful things to happen, they must take place in beautiful surroundings. Mussoorie is a place like this that should be highlighted.
It is no secret that destination weddings can be quite expensive, however, there are some amazing venues in Mussoorie that not only provide an impressive setting for an event but also save you a lot of money. There are various luxury and royal wedding venues for your grand wedding day.Your wedding venue might be just what you're looking for. For a Fairy-style wedding, the city of Mussoorie offers opulence like no other thanks to its magnificent mountains, and rich traditions. Recently, however, Mussoorie has emerged as a potential wedding destination that could compete against heritage destinations such as Rajasthan in India. The wonder dynasty's beautiful and well-maintained palaces are ideal for hosting a Fairy-style Luxury wedding.
Best destination venues for the perfect wedding
In the foothills of the Garhwal Himalayas, Mussoorie, a beautiful hill station, is quickly becoming one of the top destinations for destination weddings. There is no better place to tie the knot in the Himalayas than Mussoorie, a picturesque mountain town. There are some wonderful resorts and hotels in Mussoorie that are just right for hosting not just intimate weddings but larger celebrations as well. Summer weddings in Mussoorie are a pleasure, surrounded by panoramic views of the mountains and an ideal temperature.
If you are planning a destinationwedding in Mussoorie, you have a variety of venues to choose from.Because your wedding location set your wedding mood of celebration and it is important to decide the right venue that goes with all functions. If you are looking for fairy style wedding, you should search for a place that has royal touch or old-world colonial charm. Whatever places choose to select the best because with this you will make great memories and beautiful pictures for the lifetime
The decor of these wedding places in Mussoorie totally depended on your demand you can tell everything and concept to your wedding planner from the food catering to the decoration from the Haldi ceremony to bidai each function is done beautifully by them.
Exotic food catering at a destination wedding
Food cateringthat you hire is mainly set the level of your weddingin any function and celebration, generally, most of the guestsgravitate towards the buffets. So, you need to be so sure that part of your wedding should be unique and tasty. Appoint a wedding plannerof the local city to sort this thing easily because he knows where to cater the food that mesmerizes the guest.
No matter, what number of guests you have, you can find trained caterers to help you. In addition to niche regional specialty caterers, you can also find multicuisine caterers.Some venues have their in-house catering team that also which provides fusion food menus and Jain-specific cuisines, as well as continental menus, Mexican food, Thai cuisine, Japanese cuisine, Lebanese food, and Chinese cuisine. There are so many different options to choose from that you can offer your guests a delicious journey around the world from food counter to food counter!
Give your destination wedding a personalized touch
Almost all luxury wedding venues have wedding coordinators who try to fulfill your wedding need. they arrange the best place for the guest to the Dulhan bedhai. So that you and your guest rest, relax, and enjoy the wedding function. ByincorporatingMr. coconut,you can give apersonalized feeling to the guest you can welcome your guest at the airport or at a hotel, or at awedding venue with the customized coconut water that not only looks beautiful but also a healthy and tasty natural drink that energies their body after the long travel to reach the destination. This Personalisedcoconut waterrefreshes them and gives them the energy to enjoy functions.
A wedding planner also includes Mr. coconut Cocobar'sservices at food catering. It is the new concept of beverage stalls at weddings. They serve the healthy style of mocktails and flavoured drink which is soo tasty and healthy. With this, you can enhance the theme of your wedding which attracts almost all guests and give your wedding a tropical touch. Coconut water is not so common drink in Mussoorie. So, this time give a stamp coconut as a weddingfavor to your guest. You can engrave any design on the shell of young coconut. It is fully customized, and they only use fresh and tender coconuts. They do not compromise with the quality, so your guest always remembers your Mussoorie wedding with the help of the wedding favor you give. This is the new trend for them they always remember your wedding whenever they saw stamp coconut.