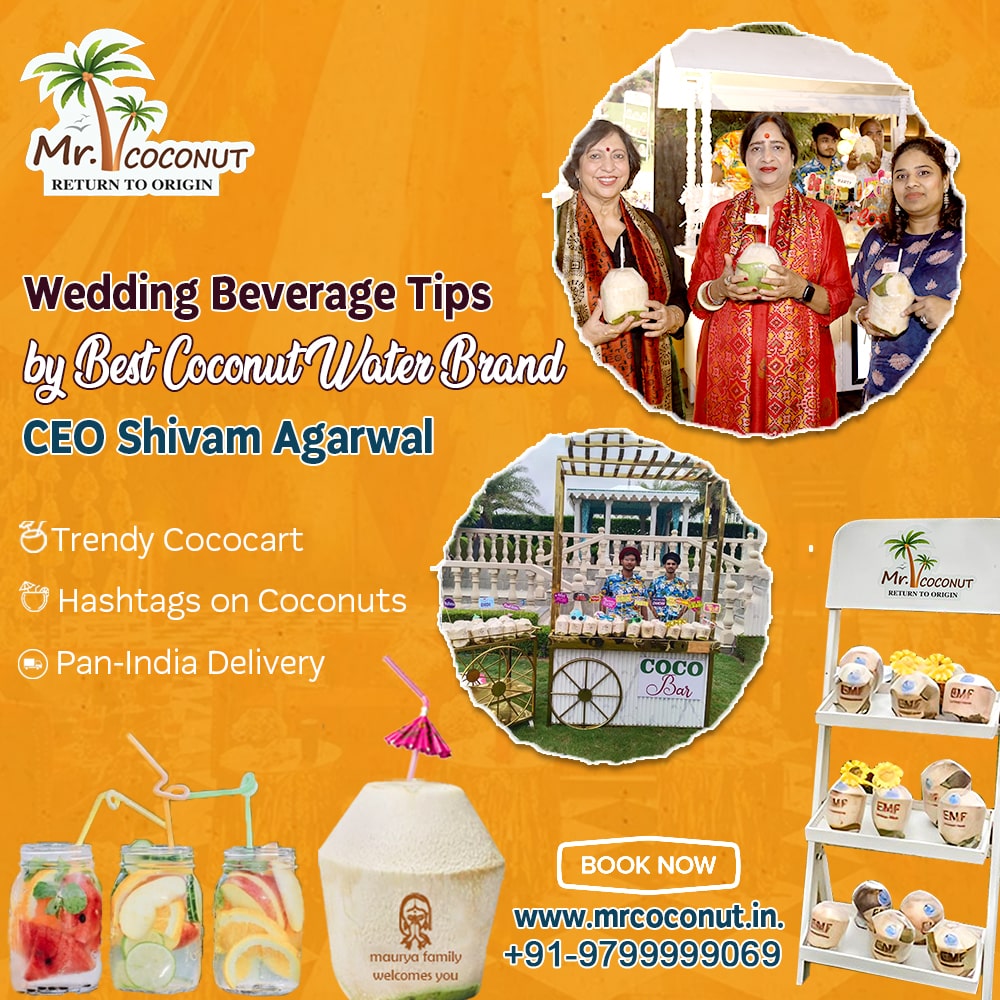 7 Tips for Wedding Beverage Needs – Best Coconut Water Brand CEO Shivam Agarwal Shares Expert Suggestions
By: Shivam Agarwal,

CEO & CO-FOUNDER MR COCONUT

| 20 September 2023
Choosing the perfect beverages to serve at your wedding can seem like an overwhelming task. With so many options and guests with different tastes to please, how do you decide? To help couples nail their drink menu, we turned to coconut expert and CEO of best customized coconut water brand Mr. Coconut, Shivam Agarwal, for his tips on the best wedding beverage ideas.
From customized coconuts to delicious mocktails, Shivam shares his top suggestions on refreshing, healthy drinks that are sure to be a hit with your guests. Read on for pro tips and creative ways to add a unique, personalized touch to your wedding beverages with engraved coconuts for Indian weddings from Mr. Coconut!
7 Wedding Beverage Ideas – Pro Tips from Mr Coconut CEO Shivam Agarwal
1). Avoid Sugary and Carbonated Beverages – Go for Natural Beverages like Coconut Water
While sodas and sugary juices may seem tempting, Shivam recommends avoiding these types of drinks at your wedding. The high sugar content can leave guests feeling sluggish and crash later in the celebration.
"Stick to still water, fresh juices, coconut water, iced tea, lemonade, and mocktails," suggests Shivam. "These provide hydration without an energy rollercoaster."
Coconut water is always a safe and crowd-pleasing option. Engrave coconuts with the couple's names or wedding hashtag and place them around the venue instead of bottled water. This adds a personalized touch!
For juice, stick to fresh-squeezed or 100% juices over juice cocktails heavy on added sugars. Citrus, berry, pineapple, watermelon, and coconut water make refreshing, antioxidant-rich choices.
2). Gift Your Guests Healthy Drink with Engrave Coconut in Haldi Ceremony
The Haldi ceremony marks the beginning of wedding celebrations in Indian culture. Mr. Coconut CEO recommends kicking off the festivities by gift engraving coconuts for your guests with the couple's names or wedding date.
"Coconut water is nature's Gatorade, hydrating guests after dancing and re-energizing them for upcoming events," says Shivam.
He suggests setting up a highly customizable coconut water stall, Cococart by Mr. Coconut. This will let guests grab a refreshingly healthy personalized coconut anytime.
3). Celebrate with Personalized Coconut in Mehendi Ceremony
The Mehendi ceremony is full of music, dance, and ornate henna designs. Keep your guests refreshed throughout the revelry by providing customized coconuts engraved with your names or wedding hashtag.
"The electrolytes and minerals in coconut water replenish the body after a long day of celebrations," Shivam explains. Place them around the venue or have servers pass them out to rehydrate your guests in style.
4). Refresh your Guests with Emboss Coconut in Sangeet Ceremony
The Sangeet ceremony celebrates the union of families through song and dance. With nonstop performances and celebrations, guests work up quite a thirst!
Shivam suggests keeping emboss coconuts with your wedding logo or hashtag. The natural nutrients attract guests to pick them up and drink so that they stay energized to dance the night away.
"Hydration is key for maintaining stamina and avoiding fatigue," he says. Strategically place the coconuts so guests can grab one between dances.
5). Add a Personal Touch to Weddings with Customized Coconuts
In addition to engraved and peeled coconuts, Shivam reveals other unique ways to customize coconuts and add personal flair to your wedding:
· Monogram coconuts with your initials or family crest
· Portrait coconuts printed with photos of the couple
· Hashtag coconuts branded with your unique wedding hashtag
· Logo coconuts featuring your wedding logo design
· Peeled coconuts served in the shell for natural bowls
"Custom coconuts build meaningful memories and become cherished keepsakes for guests," says Shivam. Display some engraved coconuts as decor then let guests take them home.
6). Give a Unique Welcome with Peeled Coconuts in Baraat Swagat
Make a refreshing first impression by greeting guests with shaved coconuts at your Baraat Swagat entrance.
"Peeled coconuts make the perfect natural, eco-friendly drink while providing a boost of nutrients," explains Shivam.
Serve these custom coconuts full of fresh & tender coconut water. Top it off with fresh fruit or an orchid for a gorgeous presentation. Your welcome coconuts will kickstart the party on a unique and healthy note!
7). Celebrate Innovatively with Monogram Coconut in Bachelor Party
Bachelor parties call for imaginative details that wow the guests of honor. Shivam suggests surprising bachelors and bachelorettes with monogram coconuts bearing their initials.
"Monogram coconuts personalized with the bride or groom's initials make fun, innovative bachelor party favors," he says.
Make it extra special by filling coconuts with chilled coconut water drink to toast the guest of honor. They'll love sipping mocktails from their own monogrammed coconut!
Conclusion
Planning wedding beverages that are both refreshing and innovative may seem daunting at first. But innovative brands like Mr. Coconut make it easy to add personalized flair and healthy hydration. Engraved and stamp coconuts allow couples to put their unique stamp on every aspect of their celebration - right down to the drinks.
We hope these pro tips from custom coconut expert Shivam Agarwal inspire you to rethink your wedding beverage offerings. Surprise and delight your guests with engraved coconuts & fresh juices instead of unhealthy sodas and juices!
FAQs
Q. What types of beverages should I serve at my wedding to keep my guests refreshed and satisfied?
A. Consider serving still water, fresh juices, custom coconut water, iced tea, lemonade, and mocktails to keep your guests refreshed and satisfied.
Q. What's a creative way to celebrate a bachelor party with personalized coconuts?
A. Surprise the bride or groom at their bachelor party with monogram coconuts bearing their initials. You can make it extra special by filling the coconuts with a signature cocktail or chilled coconut water drink to toast the guest of honor.