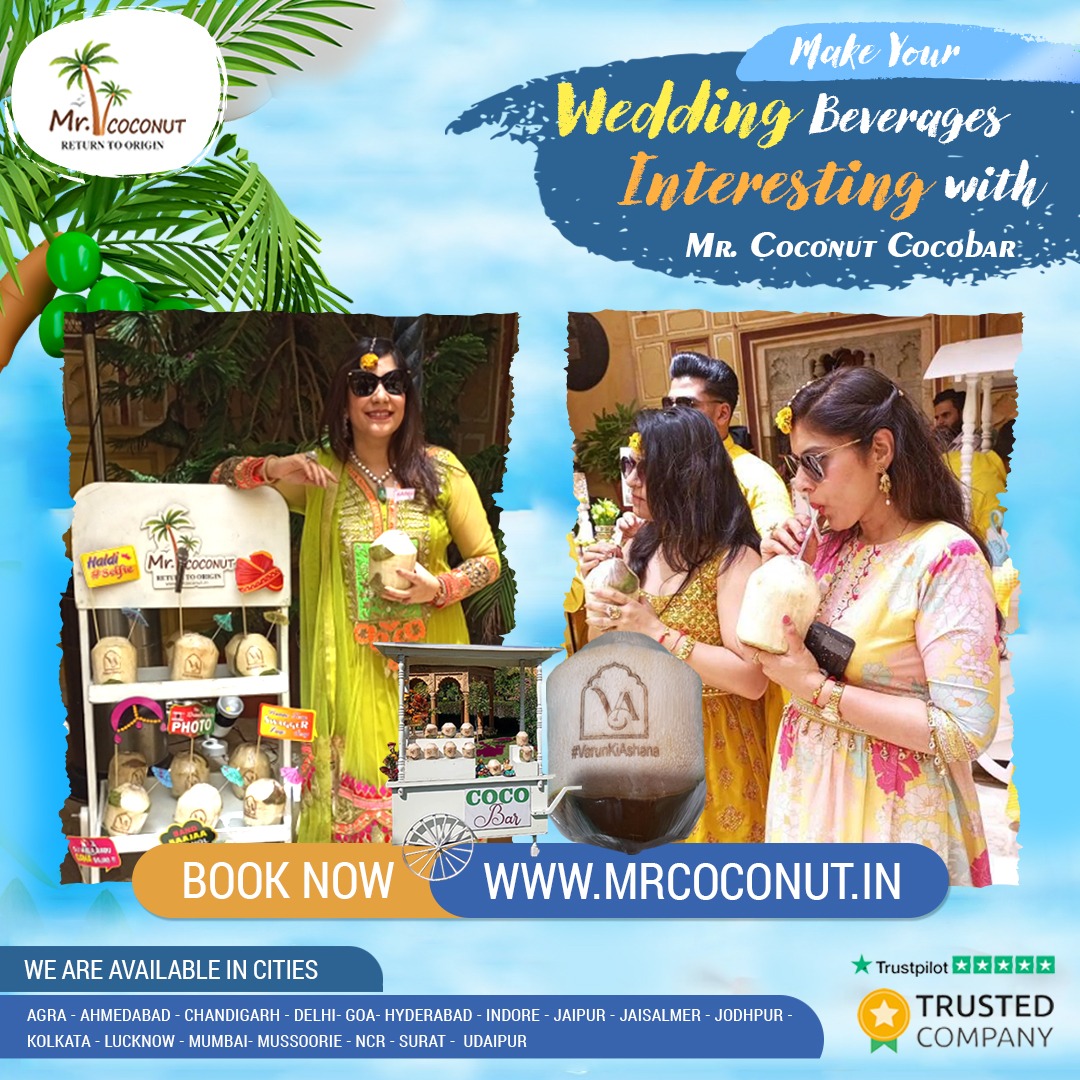 Unleash the Ultimate Beverage with Mr. Coconut's Cocobar at Your Wedding!
Posted by : Mrcoconut / On : May 15, 2023
What is a Cocobar?
Cocobar is a top-quality drink that serves coconut water and is created by Mr. Coconut to offer your wedding guests the chance to revitalize and cleanse their bodies with the refreshing essence of tender coconut water. At Mr. Coconut, guests can rely on a skilled bartender to expertly open and serve high-quality coconuts on demand. Do you want to host your wedding in Delhi? In an instant, Mr. Coconut can establish a Cocobar to provide the best wedding drinks for your attendees.
Mr. Coconut's Cocobar is the perfect addition to any wedding, providing guests with a unique and delicious beverage experience that will leave a lasting impression. These act as the best welcome drinks for a wedding. With our signature coconut drinks for weddings, our Cocobar is the ultimate customizable coconut water stall for any celebration.
Why should you go for Mr. Coconut's Cocobar Signature Drinks?

Mr. Coconut provides you with a cocobar customizable coconut drink stall where you can customize your coconut drinks. It is a new idea for traditional Indian weddings. Our signature coconut water is rich in electrolytes, vitamins, and minerals, making it the perfect drink for staying hydrated and healthy. Unlike soda or other sugary drinks, our Cocobar provides a refreshing, all-natural option to help guests feel good while they celebrate. Mr. Coconut provides similar healthy coconut drinks at their Indian fruit juice stall with peeled and shaved coconuts too!


econdly, Mr. Coconut's Cocobar is customizable to fit any wedding theme or style. Whether you're going for a tropical beach vibe or a classic, elegant look, we can tailor our Cocobar to match your vision. At Mr. Coconut, we are the best welcome drink ideas for weddings in Kolkata and Mumbai.

Thirdly, our Cocobar is a great way to add an interactive element to your wedding. Guests can mix and match their favorite flavors and toppings, creating a personalized coconut beverage experience. They may enjoy it as a breakfast beverage at a wedding or a nonalcoholic beverage at a wedding reception in the evening. This is a fun and engaging activity that will keep your guests entertained and talking about your wedding long after the last dance.

Fourthly, Mr. Coconut's Cocobar is perfect for outdoor weddings. Our Cocobar coconut water stalls are ideal for hot summer days or outdoor celebrations. Your guests will appreciate having an excellent and delicious drink to help them beat the heat.

Fifthly, Mr. Coconut's Cocobar is a sustainable choice for your wedding. We use eco-friendly coconuts and straws, and our ingredients are sourced from sustainable and responsible producers. By choosing Mr. Coconut's Cocobar, you can feel good about positively impacting the environment while celebrating your special day.

Lastly, Mr. Coconut's Cocobar is a unique and memorable addition to your wedding. Our signature coconut water and fresh ingredients will leave a lasting impression on your guests. They'll be talking about your wedding for years to come, and the memories of sipping on delicious, all-natural drinks will stay with them forever. If they have tried the Monogram coconut drink, a rare specialty of Mr. Coconut, they will return to such weddings with coconut water as their prime attraction.​
Why Should You Contact Mr. Coconut for Cocobar coconut drinks?
In addition to all these benefits, Mr. Coconut's Cocobar also offers excellent customer service. Our team is dedicated to ensuring your wedding is perfect, and we'll work with you to create a customized carved coconut beverage experience that fits your needs and exceeds your expectations.
If you're interested in having Mr. Coconut's Cocobar at your wedding, here's how it works:
First, contact us to discuss your wedding details and beverage needs. We'll work with you to create a customized menu and quote based on your preferences and guest count.
Next, we'll coordinate with your wedding planner or venue to ensure we have everything to set up our Cocobar. We'll arrive early to set up our equipment and ingredients, ensuring everything is ready to go before your guests arrive.
During your wedding, our friendly and professional staff will serve your guests and keep the Cocobar area clean and organized. We'll ensure that everyone has a great experience and that you don't have to worry about anything.
After the wedding, we'll pack up our equipment and leave the area clean and tidy. We'll also follow up with you to make sure that you are happy with our service and to get any feedback or suggestions for future events.
In conclusion, Mr. Coconut's Cocobar is the ultimate customizable coconut stall at your wedding. With its healthy, customizable, and interactive nature, it's the perfect addition to any celebration. Contact us today to learn more about how we can help make your wedding unforgettable!