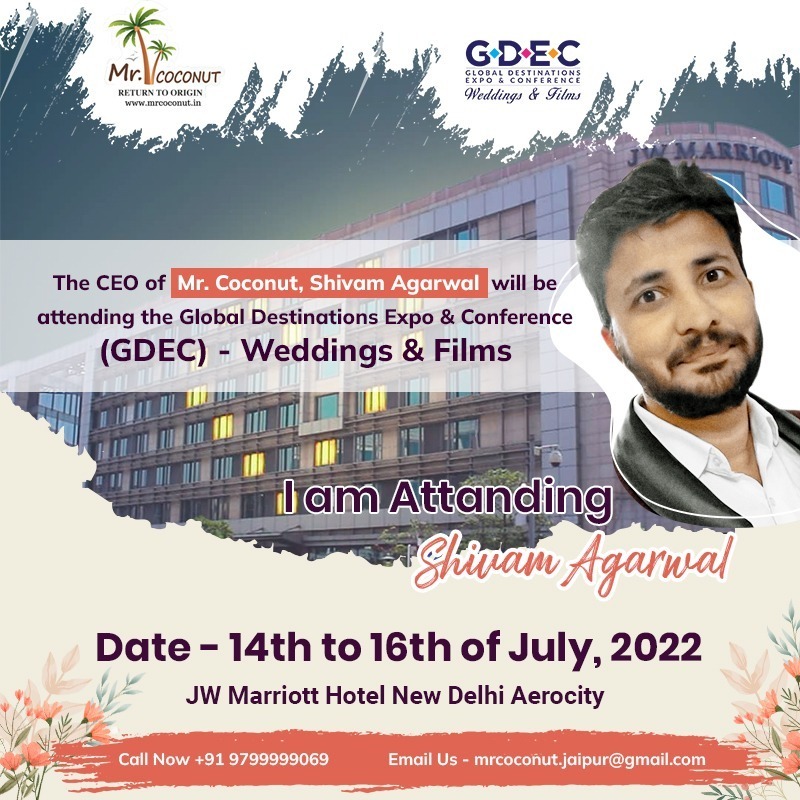 The CEO of Mr. Coconut will attend Global Destinations Expo & Conference 2022
By: Shivam Agarwal,

CEO & CO-FOUNDER MR COCONUT

| 14 July 2022
The CEO of Mr. Coconut, Shivam Agarwal will be attending the Global Destinations Expo & Conference (GDEC) - Weddings & Films.
The premier event will be hosted at the picturesque JW Marriott Aerocity Hotel, New Delhi, from the 14th to 16th of July, 2022.
Global Destinations Expo & Conference (Weddings & Films) is a world-class event primarily focused on helping sales and services professionals responsible for making weddings great and memorable!
Notable speakers from different industries will deliver industry insights, talks and effective strategies about the wedding and film industries. How can Mr. Coconut benefit from this industry-leading event? What can GDEC 2022 bring to the table for attendees? Read on to find out!
What is the Global Destinations Expo & Conference (GDEC)?
The Global Destinations Expo & Conference, or in short, GDEC is a multi-disciplinary conference for professionals and services personnel who assist clients in planning and executing some of the best weddings and film shootings in the world!
Did you know? India is one of the leading countries in the world for destination weddings.
How? Indians spend a whopping 3 Billion dollars each year to have weddings at scenic locations, both in and out of India. India's destination wedding market is estimated at around 450 Billion Dollars!
When it comes to film shootings, India creates more movies than any other nation and the Indian film industry is estimated at around 3 Billion Dollars!
These are a few prominent reasons why GDEC is being conducted in India. This will help wedding planners, film professionals and leading brands like Mr. Coconut to learn about new strategies and implement them to make the industries more successful!
What is Mr. Coconut?
Mr. Coconut is a leading industry in India for personalized coconuts. The CEO of Mr. Coconut, Mr. Shivam Agarwal and his team of experts have found an exciting take on coconut water.
Instead of just focusing on serving coconut water in regular coconuts, Mr. Coconut came up with a unique perspective – Carved coconut.
The company offers to customize coconuts according to the occasion i.e., photos of couples (for weddings and couple photoshoots), birthdays, ring ceremonies (image of the person), events (logos on the coconut) so on and so forth.
Mr. Coconut also offers to set up an exclusive coconut water stall at weddings, parties, birthdays, ring ceremonies and other events. This will help the organizers make the event more unique while offering a healthy beverage to guests.
In addition to that, Mr. Coconut offers flavored coconut water (a new beverage concept) to make your coconut water drinking experience even more memorable!
How can GDEC 2022 benefit Attendees?
Wedding planners, film industry professionals and leading brands such as Mr. Coconut can learn a lot about current market trends, new strategies and other interesting prospects in the wedding and film industry.
Here's what you can expect at GDEC 2022:
Discussions on important topics like the new role of event service professionals, leveraging community stakeholders for positive economic impact and more!
Networking opportunities with a gamut of wedding and film industry professionals.
Industry insights, strategies and talks from notable speakers that will help improve existing services.
Are you an industry professional in the wedding or film industry? Then you should book your slot at GDEC 2022!