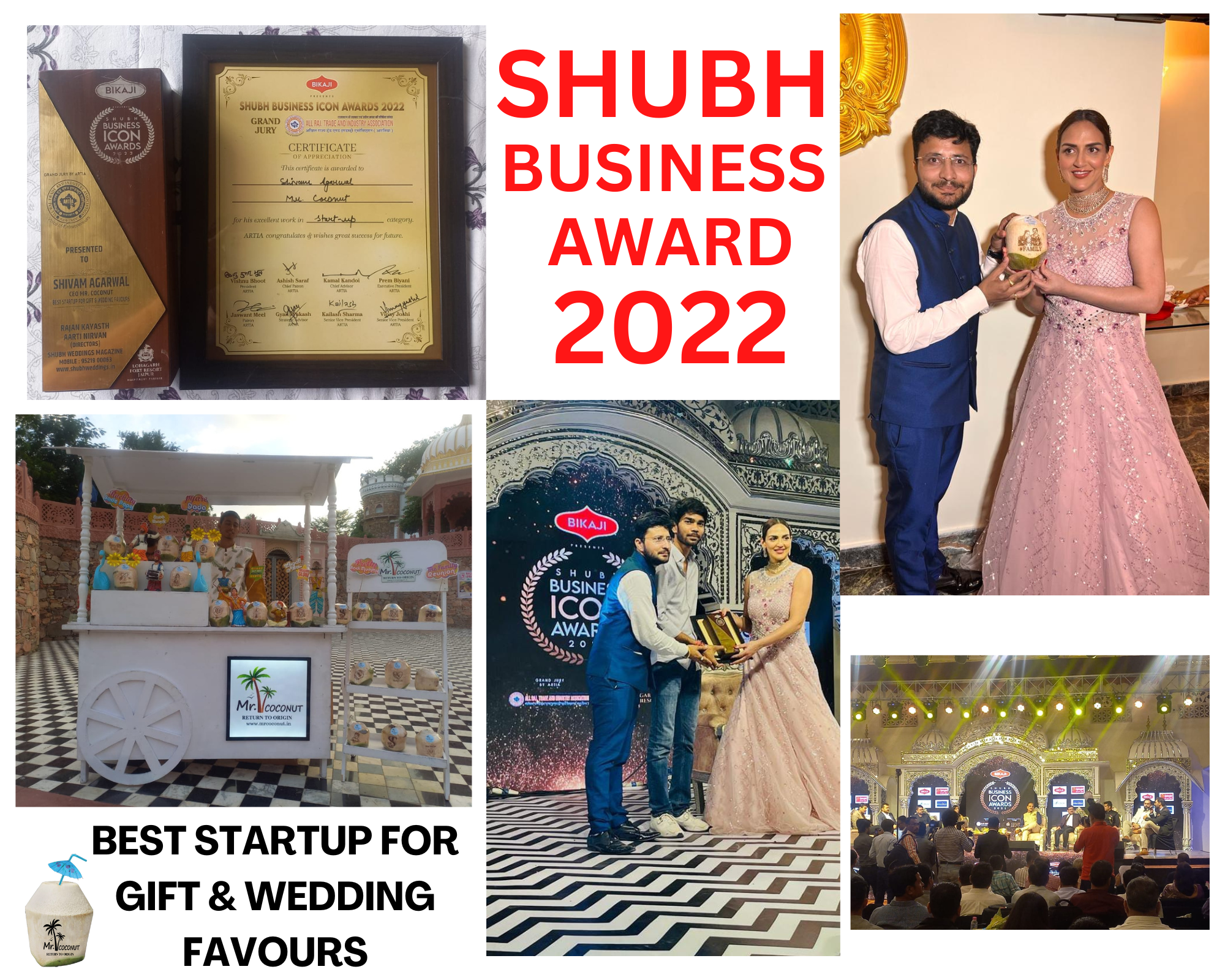 Mr. coconut was recognized by the Shubh Business Icon Award 2022
Posted by : Mrcoconut / On : Sep 15, 2022
Bikaji organizedan award function that is Shubh Business Icon Award 2022, dedicated to all business, tourism, and wedding businesses in Rajasthan. It was held on 13th September 2022. This Shubh Business Icon Award Function was done on Tuesday at Lohagarh Fort Resort in Kukas at 04.00 pm. This event took place to bring all the amazing business leaders to the single platform and appreciate them for their valuable contribution to the economy as well as the social platform.This award function is a magnificent initiative dedicated to recognizing and honoring outstanding business leaders from across states and industries.
What happens at Shubh Business Icon Award 2022?
CEO of Mr. Coconut, Shivam Agarwal,is proudly honored with the award for the Best Start-up for Gifts and Wedding Favours during the award show. They appreciate their idea for a new concept in the wedding and gifting sector. They praise them for their excellent work in this sector and Angel investor and ARTIA (All Rajasthan Trade and Industry Association) congratulatethem and wish them great success in the future. Just for knowledge, ARTIA is an intermediary between the Government of INDIA and the Government of Rajasthan, ARTIA provides information dissemination among its members as well as policy advocacy.
A key highlight of the Award function
During this award function serval Wedding, Tourism, and Start-up owners who have brought different heights and ideas to the name of Rajasthan across the world are honored for their outstanding work. All the 40 awardees are felicitated by the celebrity guest Esha Deol.ARTIA Grand Jury is also present in the program. The jury has selected all the awardees in 3 categories, which helps to recognize youngstartups in the age group of zero to 5 years, Expert Business Owners in the age group of 5-15 years, and Legendary Business Owners above 15. With this event, they want to support Prime Minister Narendra Modi's "Make in India" vision.
Additionally, young entrepreneurs get the opportunity to learn from veteran businessmen through special panel discussions and motivational sessions. The meeting involved not just Jaipur, but also Indian business tycoons who have settled in countries such as Dubai and Turkey. Several well-known wedding planners from Delhi, Uttar Pradesh, Madhya Pradesh, Gujarat, Maharashtra, and Karnataka and tourism industry professionals also took part. The tourism sector has recently been granted the status of a business by Rajasthan CM Ashok Gehlot. This enables all visitors to explore the heritage of the city and encourages wedding tourism.
Excited to be honored with the Shubh Business Icon Award
Mr. coconut has found a way to be recognized with the Best startup award for gifts and wedding favorsby introducing a new concept of beverages in weddings, events, hotels, party and not only for beverages but also get change the persona of wedding favors and gift with their personalized coconut water or you can say stamp coconut. Mr. coconut is one of the fastest-growing brands in India in the beverage and gifting sectors. CEO of Mr. coconut, Mr. Shivam Agarwal with this team develop an amazing idea in the Indian market. He brings a new alternative to beverages in a healthy manner. Their stamp coconut is just brought a new height to the name of personalized beverages.
Their carved coconutis a healthy, natural product without any preservatives and chemicals, only the best quality tender coconut is used for the real-time stall or for gifting. Their main concept is they engraved the print of any design that their customer desired on the shell of young coconut, which mesmerized and attract the guest a lot whether it was a wedding or any other event like a conference, kitty part party, birthday party, business meeting, etc. they serve everywhere to make the event memorable for the guest.
Mr. coconut is very happy to be respected with the award on Shubh Business Icon Award 2022. This award function brings a lot of enthusiasm and motivation among the business leader from across the industries and states by getting an opportunity of learning new trends and ideas from veteran businessmen through sessions and panel discussions. This award function is such a great platform for appreciating young entrepreneurs which is amazing. Hats off!
Excited to get many more!