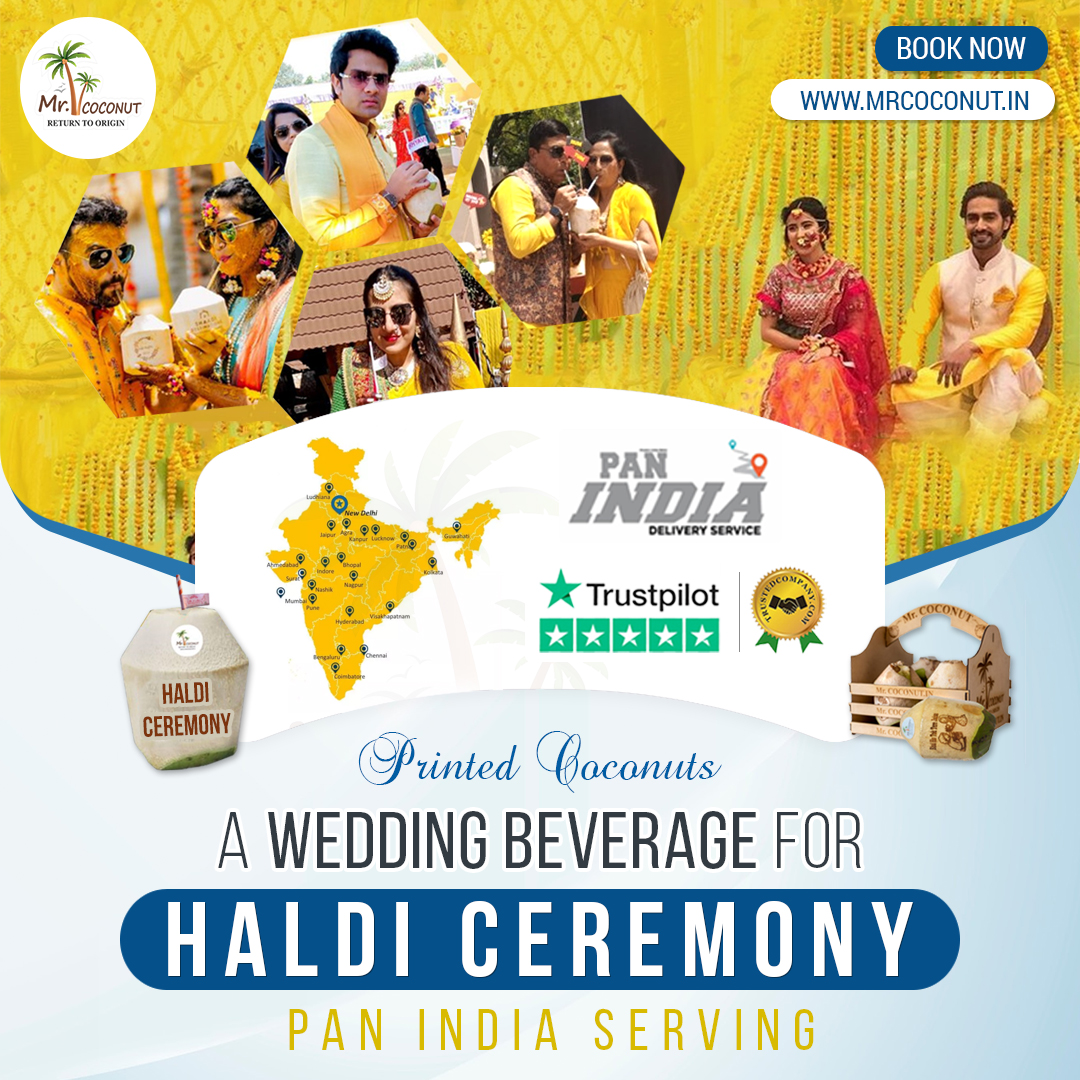 How to Use Printed Coconuts to Spread Love and Good Luck at Your Haldi Ceremony?
By: Shivam Agarwal,

CEO & CO-FOUNDER MR COCONUT

| 30 May 2023
Wedding bells bring happiness and joy. Well, what makes the festive season of a wedding special is its pre-wedding ceremonies. Haldi Ceremony is a personalized and distinctive variation of the traditional Indian pre-wedding ritual.
While the basic purpose of the ceremony is to apply turmeric paste to the bride and groom, the celebration and fun ree enhanced through various unique elements. Personalized Coconuts welcome drink being one of these elements.
Mr. Coconut goes with the trend of a unique Haldi ceremony. So, we add creative elements to your Haldi Celebration. Let's see how the welcome drink ideas reflect the couple's personality, cultural background, & guests' preferences.
Bring Printed Coconuts to Haldi Ceremony – Spread Love & Gratitude
A haldi ceremony is incomplete without music, dance, chit-chat, food, snacks, and drinks. What matters to the guests most is how they're being served. So, be a kind-hearted host, and let this haldi party rock with Mr. Coconut.
Our welcome drink for the Haldi ceremony is personalized and customized per your requirements. We understand that drinks complement food; hence, the most important element is the party. Let us serve our Stamp Coconut, a delightful and refreshing way to begin the festivities.
Consider adding an element of novelty and spread love and gratitude amongst the family members, guests, and friends who have come to attend your Haldi Party. Mr. Coconut's Carved Coconut can be introduced during the Haldi ceremony. These coconuts can be customized with the couple's names, wedding dates, a lovely message, or a party theme. Serve the fresh, tender nariyal pani as a memento for the guests to cherish!
Ways of Using Printed Coconuts in Haldi Ceremony to Make it Unique & Memorable
Using a coconut mocktail drink as a welcome drink for a summer party will only spread love and good luck at your Haldi ceremony. Execute this beautiful idea beautifully with Mr. Coconut. How? Let's see below the concise guide to doing so:
1. Customize Your Coconut Drink
Mr. Coconut brings fresh, unblemished coconuts that are suitable for printing. Experts can customize the coconut drink according to the desired designs or patterns. You can ask us to serve Peeled Coconut at your haldi party as a token of love and good luck. Traditional motifs, floral patterns, or the names of the to-be-couples can all be carved on the coconut's shell.
2. Arrange a Display
Cocobar – the customized coconut bar for events like Haldi in Delhi, Mumbai, and Kolkata is the popular choice of the time. You can create an attractive display area housing the Printed Coconut. You can also use gift baskets or trays decorated with flowers. And the fresh nariyal pani will quench the thirst of the guests.
3.Capture Memories
Distribute shaved coconut to guests, friends, and family members. Also, encourage guests to take selfies and pictures with the printed coconuts and create a memorable hashtag that could be shared later as a part of the wedding videos.
4. Add a Coconut-inspired Menu
To create a haldi-based theme party, consider incorporating coconut-inspired dishes. Monogram Coconuts can function as a drink option, and in addition to this, you can consider including coconut-based curries or coconut desserts as party delights. Make your guests enjoy the overall haldi ceremony!
Mr. Coconut – The First Choice for Haldi Planners
The party welcome drink ideas promoted on behalf of Mr. Coconut are the primary attraction of the party. We only serve fresh nariyal pani to quench the guests' thirst, thereby adding authenticity to the Haldi ceremony and enhancing the overall experience for everyone.
More than just adding a personalized touch to the welcome drink at the Haldi party is required. Mr. Coconut does much more than this. As the Haldi ceremony planner, we go beyond adding a personalized touch to the welcome drink. We offer decorated gift baskets filled with thoughtful items like shaved coconut. As a traditional haldi party, a non-alcoholic drink is a meaningful hamper.
Keep Healthy & Enjoy Fresh-High, Quality Coconuts
Mr. Coconut is one of the top companies in the customized coconut industry. It offers fresh & high-quality coconuts to every client hosting a haldi ceremony in Goa, Jodhpur, Jaipur, and Indore, across major cities in India. We keep a check on keeping clients' health in check. The Indian fruit juice stall we set up at the Haldi party is fresh, unblemished, and of the finest quality.
So, make your Haldi festivity full of love and gratitude. Mr. Coconut and its welcome drink ideas for winter and hampers will bring a smile to your face and to the face of people being a part of your celebration. After all, the haldi ceremony is as unique as to-be-couples! Celebrate the ceremony of joy, create a sense of unity, taste the tender coconut water, and make your guests appreciate the unique touch of the printed coconuts!