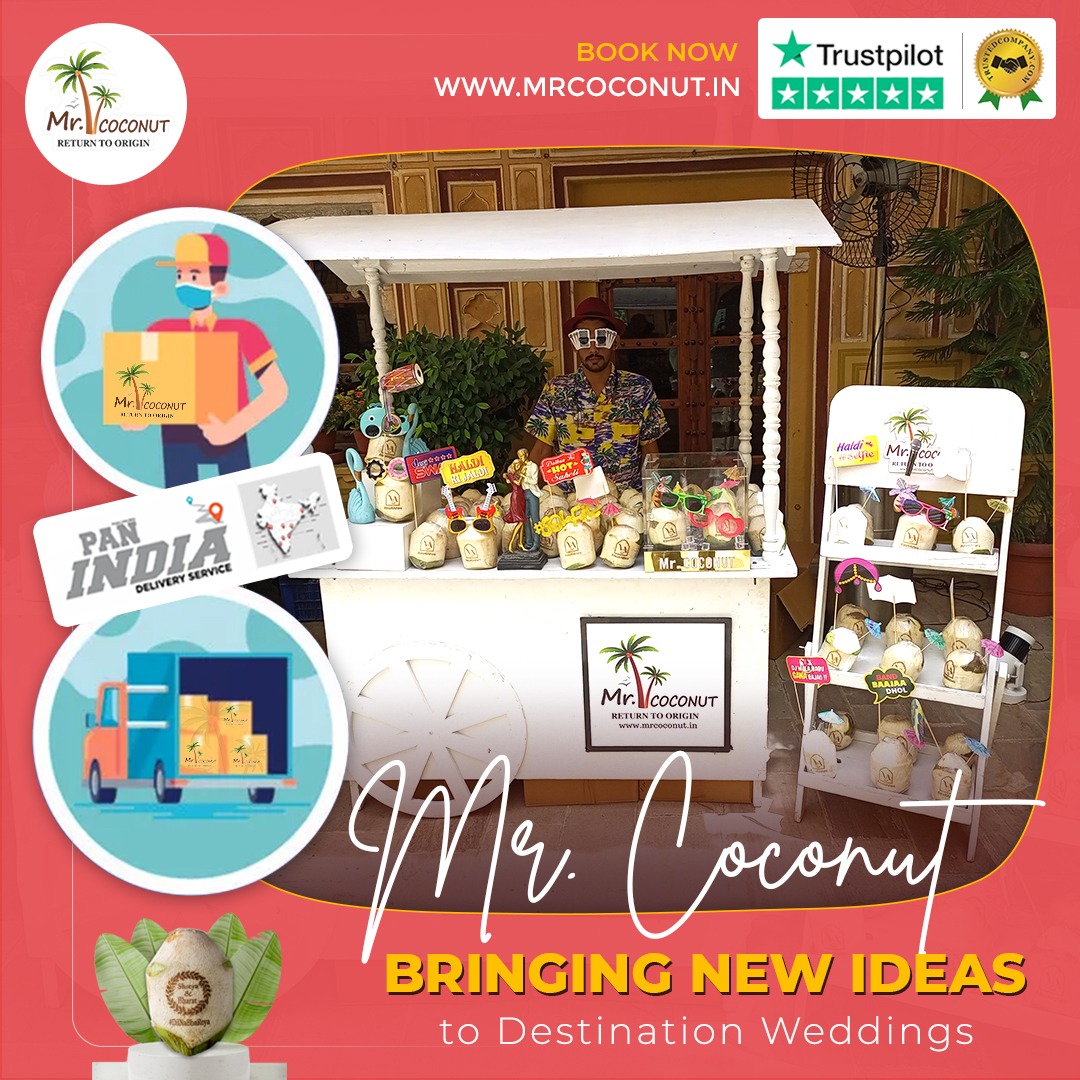 Get Inspired by These Stunning Personalized Coconut Ideas for Your Destination Wedding
By: Shivam Agarwal,

CEO & CO-FOUNDER MR COCONUT

| 24 May 2023
A destination wedding is not just a ceremony; it's the time to celebrate to the fullest – with zeal and enthusiasm. In India, a destination wedding is organized in a location away from the couple's residence. A large amount of planning goes into such a grand wedding festivity.
Right from traveling to a different city to landing on a scenic destination like a beach or resort, relatives and friends are all busy preparing for a destination wedding. Don't you think thinking out of the box might be tedious amidst all these chaos and busy times?
Well, Mr. Coconut is here with the idea of personalized wedding favors with its personalized Coconuts. Yes, you heard it right – a personalized treatment for your family, friends, and dear ones makes a destination wedding stunning! If you question why to implement Mr. Coconut's welcome drink ideas into your destination wedding then read on.
Guest Welcome Idea in Destination Wedding with Mr. Coconut – A Unique Setting for Special Day
Here is how Mr. Coconut's carved coconut can be used for your destination wedding:

1. Personalized Welcome Drinks

Your wedding party will be trendy and chic with a customizable welcome drink. Coconuts serve as the best non-alcoholic welcome drinks due to their healthy nature and mouth-watering taste. Let Mr. Coconut serve coconut beverages that complement the destination wedding appetizers.

2. Refreshing Coconut Place Cards
How about fitting a peeled coconut drink with a straw and wooden tropical leaf place card? It is a visually appealing and unique Guest welcome idea for your destination wedding. Mr. Coconut comes with excellent ideas and is an expert at engraving each guest's name on the drinkable coconut.

3. Personalized Mocktails
Serve refreshing coconut mocktails with fresh snacks is a unique breakfast idea in destination weddings. Dressing up custom-labeled coconut drinks with a continental breakfast spread will only wow your wedding guests. Mr. Coconut can peel & carve couple's names or wedding logos on the coconut shell. This will be a delightful way to incorporate the destination vibe into your drinks.
4. Custom Message Coconuts
Serving printed coconut is another idea to add uniqueness to your destination wedding. You can share heartfelt messages with your guests by engraving special quotes or thank you notes on coconut shells. Let Mr. Coconut help you plan a stunning wedding in Delhi, Mumbai, or Kolkata. We send custom-carved coconuts for every Guest, which you can use as unique wedding favors.
5. Coconut Photo Booth Props
Traditional wedding photos are good – but they are no more the talk of the town. You can place monogram coconuts as coconut-themed props in the fun photo booth. Your guests will feel welcome while being clicked with the bride and groom with a customized coconut drink! Don't you think this will add a touch of fun and whimsy to your wedding photos?

6. Personalized Coconut Favours/Gifts
Make your friends and guests remember your destination wedding for a little longer! Anything unique is sure to capture one's attention. So, Mr. Coconut comes with the best destination wedding favor and gifts, i.e., personalized coconuts, which you can include with your welcome bags or baskets. You can also add stamp coconut filled with delicious coconut water and gift it along with treats & goodies.. The thoughtful gesture will make guests feel appreciated.

Arrange a Healthy Wedding Party with Healthy Drink

The perfect destination wedding calls for perfection. How could you expect a party to be perfect if it doesn't house yummy food, and drink, with health benefits? Mr. Coconut's welcome drinks for an Indian wedding are served to make guests feel satisfied and happy.
Ours is the best wedding drink – unique in taste & fresh in consumption. And the best part about Mr. Coconut is that our experts can set up a unique coconut beverage stall. Take this healthy idea to a new level with a carved or peeled nariyal pani drink. Standard alcoholic drinks aren't as good and fresh as tasty coconut water. So, why not add branded coconuts in your destination wedding?
Order Monogram Coconuts for All-Inclusive Destination Wedding only with Mr. Coconut
Now that you know some of the awesome personalized coconut ideas for destination weddings, it's time to execute the same. To order shaved coconut, reach out to Mr. Coconut. We're one of the leading brands in India, specializing in providing personalized coconut drinks for special occasions like weddings.
Once you contact Mr. Coconut through our website, we discuss all your requirements. Our experts can craft and carve beautifully Customized Coconut Counters, i.e., Coco bar, for your destination wedding in Goa, Jaipur, Lucknow, or Jodhpur.
Mr. Coconut is known for supplying good signature drinks for weddings. You must convey the desired monogram or design and any specific preferences or customization requests. It's on us to fulfill the same.

So, what are you waiting for now? The best destination wedding idea is laid on your table. It's time to make your big day unique and memorable for several days. Combine Mr. Coconut's non-alcoholic welcome drinks in your wedding celebration and make the intimate and relaxed affair beautiful as ever! Contact us soon!