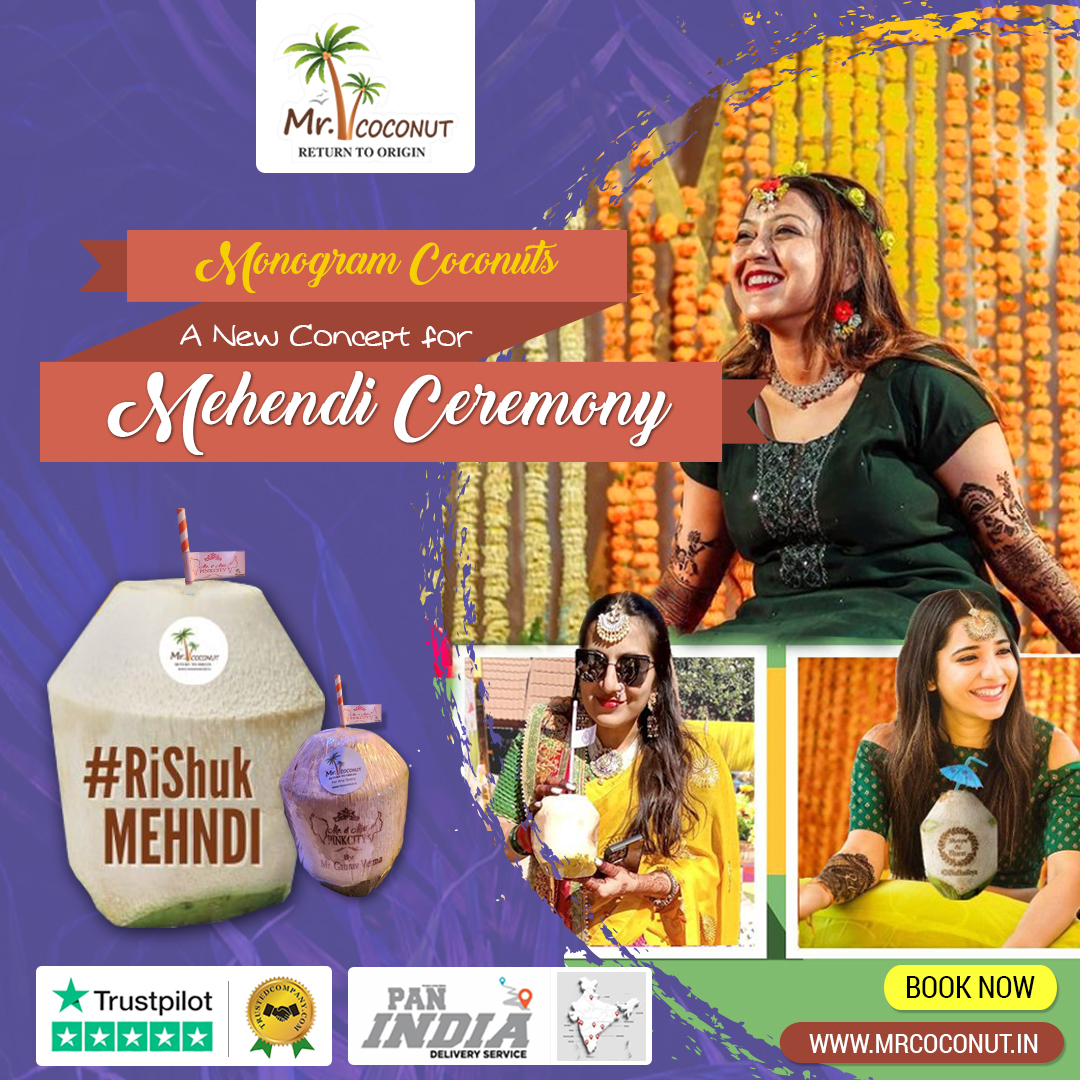 Monogram Coconuts: A Timeless Mehendi Ceremony Favor That Your Guests Will Love
By: Shivam Agarwal,

CEO & CO-FOUNDER MR COCONUT

| 29 May 2023
Are you planning to host a big fat Indian wedding ceremony? In this case, you must plan grand pre-wedding events like the Mehendi Celebration. For Indians, Mehendi is a significant pre-wedding event in many cultures. Since this ceremony is a joyous celebration, you must plan something creative for your guests.
A colorful celebration with pop music, dance, and scrumptious food makes the Mehendi Ceremony timeless. You are the host and want to ensure your guests have a memorable experience. Here, Mr. Coconut can be your partner. Our printed coconut can be presented as a thoughtful favor for your guests.
Let's see how we will personalize your event with drinks & hampers which will impress your guests.
Create Vivid Mehendi Ceremony Memories with Mr. Coconut
Lately, mehndi ceremonies have become a prevalent celebration. Friends, family members, and relatives unite to make this family function a timeless celebration. The Mehendi function hosts guests with green dresses and attractive decorations. But what about the serving plate? You can plan to serve traditional foods with a complimentary drink.
Mr. Coconut's Peeled Coconut is fresh and tasty, adding a special touch to the grand Mehendi Function. Our extraordinary drink ideas & lip-smacking non-alcoholic welcome drinks will surely make your guests feel attended and loved. We have experts who can customize Monogram nariyal pani with attractive designs or themed logos. Be the 'host of the year' & host a stunning and timeless mehendi ceremony!

Why Include Monogram Coconuts in Your Mehendi Ceremony for a Cherished Favor?
Whether you are planning for a Mehendi ceremony in Delhi, Mumbai, or Kolkata, call Mr. Coconut. With our Personalized Coconuts, make your party the talk of the time. To make the festive ceremony royal, include monogram coconuts – an eye-catching and elegant favor.
Mr. Coconut helps you celebrate the love of the Mehendi Ceremony magnificently. Here's how:
1. Convey Your Wishes Symbolically
Monogram Coconuts are often associated with favorable blessings and good fortune in Indian cultures. Consider giving coconut as engraved gifts to your guests. This way, you are symbolically conveying your wishes for the good luck and happiness of the guests. Moreover, it makes your guests feel wowed due to the tasty welcome drink for summer!
2. Unique and Memorable
Sweets and snacks are traditional food flavors that are served in Mehendi Ceremony. Make your ceremony delightful by including Stamp Coconut as the drink option. This drink adds essence to the sweets served. Mr. Coconut party welcomes drink ideas, adding a touch of uniqueness to your Mehendi ceremony! Your guests will likely remember and appreciate such a distinctive favor for a long time.
3. Decorative Keepsake
Carved Coconut from Mr. Coconut can be beautifully decorated with elaborate designs, logos, monograms, and personalized initials. They can further be customized to match the overall theme and aesthetics of your Mehendi ceremony. Look no further than us, i.e., Mr. Coconut, to add decorative keepsakes to your function. You, as a host, serving the best welcome drinks will leave a lasting reminder of the joyous occasion.
4. Non-Alcoholic Choice
In an era where alcohol and cocktail are so popular, why not twist it and add something healthy? After all, your guests made it to your party; now, you must cater to their health needs!
Mr. Coconut can set up a customized coconut counter for the Mehendi ceremony called Cocobar. This is both an easy & unique favor option. Coconuts being natural, fresh, and non-alcoholic, are the best drink choice.
5. Complementing the Food
The coconut drink, a mocktail, can be specifically crafted to complement the traditional foods at the Mehendi ceremony. The flavors of the drinks will harmonize with the taste of the various dishes you serve to your guests. Thus, Mr. Coconut's nariyal pani creates a delightful culinary experience for the guests.
6. Enriching the Ambiance
Shaved Coconut is a delightful beverage, especially for pre-wedding and wedding functions. Be it Jaipur, Goa, Surat, or Agra – organize a Mehendi ceremony, and call Mr. Coconut to set up an Indian fruit juice stall. Our classy monogram coconut with pictures of the groom and bride or a couple of hashtags adds to the overall ambiance of your Mehendi ceremony!

Sweet & Memorable Giveaway at Your Mehendi ceremony with Mr. Coconut
Offering gifts to the guests who come to Mehendi Party never goes out of trend. Mr. Coconut's Printed Coconut Drink along with treats is the best gift basket for your guests. Monogram coconuts with Mr. Coconut are ideal when distributing personalized gifts.
You can ask us to display the carved coconuts with attractive designs. We shall also arrange them creatively in baskets, letting your guests choose their preferred giveaway gift! To further multiply the creativity, consider including a small note or tag detailing the hearty thanking your guests for being a part of your special day.
So, do not wait any further. Contact Mr. Coconut and get impressed with our monogram coconut drink, fresh party servings, and amazing welcome drink ideas. Adding a unique twist on traditional Mehendi ceremony favors is possible with one and only – Mr. Coconut.