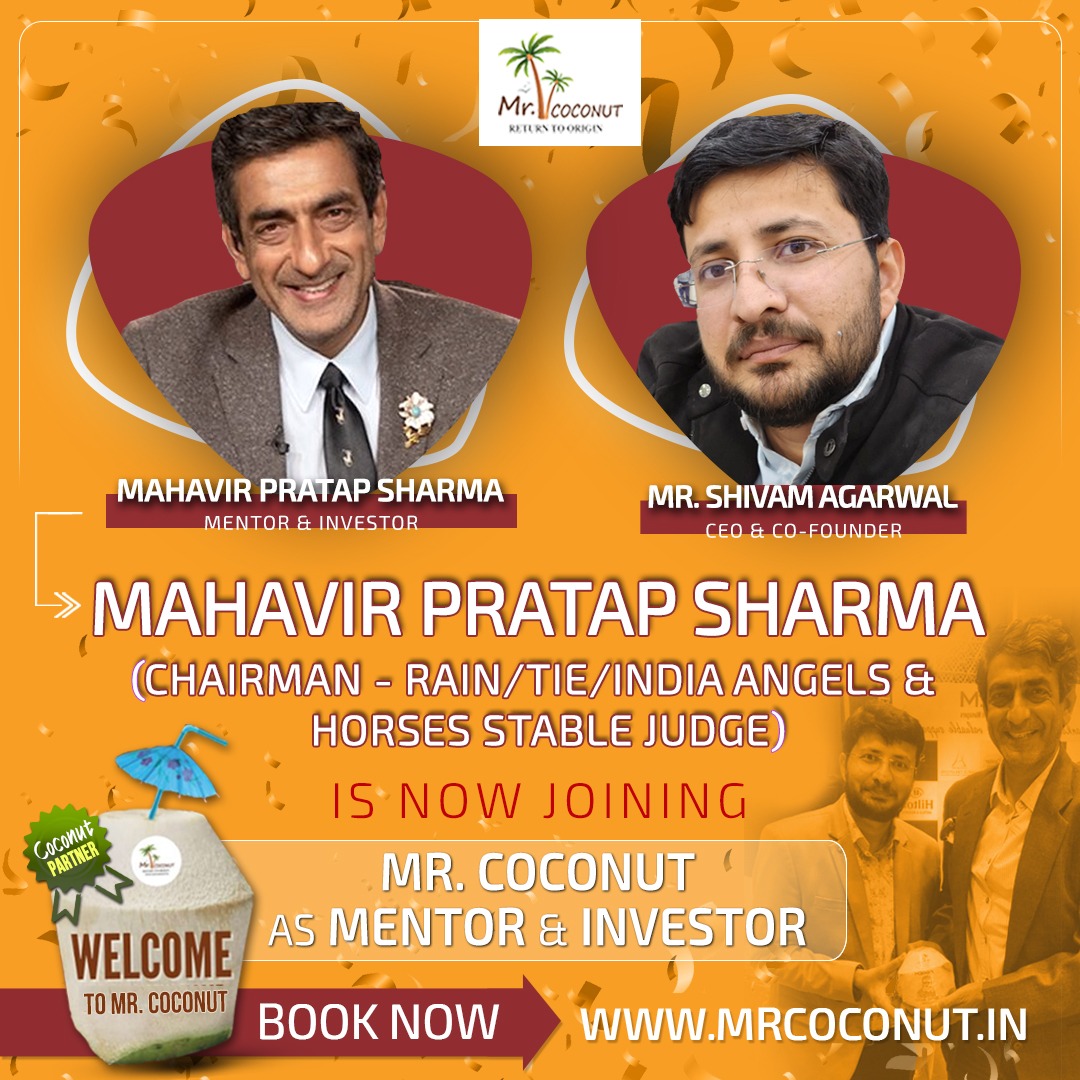 Mahavir Pratap Sharma (Chairman - RAIN/TIE/India Angels&Horses Stable Judge) is Now Joining Mr. Coconut as Mentor & Investor
Posted by : Mrcoconut / On : May 17, 2023
Funding Landscape in Indian StartupsFunding Landscape in Indian StartupsHorses Stable: Empowering Entrepreneurs and InvestorsMr.Mahavir Pratap Sharma, Chairman - RAIN/TIE/India Angels & Horses Stable Judge is a renowned serial entrepreneur and an inspiring figure in the business world. He is widely recognized for his multifaceted endeavors and unwavering dedication to angel investing, leadership, and mentoring. He is now joining Mr. Coconut as a Mentor & Investor. Mahavir Pratap Sharma will be guiding Mr. Coconut CEO, Mr. Shivam Agarwaland his team to take the customized coconuts brand, Mr. Coconut to new heights!
Mahavir Pratap SharmaChairman - RAIN/TIE/India Angels& Horses Stable Judge Joins Mr. Coconut as Mentor & Investor
Mr. Coconut CEOShivam Agarwal and team are more than excited to welcome Mahavir Pratap Sharma, Chairman - RAIN/TIE/India Angels&Horses Stable Judge as Mentor & Investor. Mr. Coconut, the most trusted customized Coconut brand in Indiais growing by leaps and bounds. Weoffer a variety of customized coconut services such as:

Providing Personalized Coconuts for Weddings & Marriage Celebrations

We provide a variety of customized coconuts like:

​Carved Coconuts with pictures of the Couple, Ceremony dates & more
Stamp Coconutswith sophisticated designs and ceremony names
Printed Coconuts with the design of your choice
Monogram Coconuts with masterful Monogram designs
Peeled Coconuts with intricate designs
Shaved Coconuts with curated designs & more
Our customized coconuts are the perfect & healthy natural drink for weddings & marriage celebrations like HaldiCermony, Sangeet Ceremony, Mehendi Ceremony, Wedding Receptionand more. Mr. Coconuts serves major Indian cities like Delhi, Kolkata and Mumbai. We also cater to a variety of cities like Jaipur, Ahmedabad, Mussoorieand more.

We also Cater to a Variety of Corporate Events
Mr. Coconut was recently announced as the Official Coconut Partner forAsia's Largest B2B Wedding Summit, WV Connect 2023. Apart from this, Mr. Coconut also serves different Corporate Events across India.

Cocobar – Mr. Coconut's New Concept of Coconut Water Stall for Events

In addition to the masterfully crafted Monogram Coconuts, Mr. Coconut also provides a highly-personalized Coconut Water Stall for Weddings& Events called Cocobar. Our experts can customize the Cocobar according to your event theme and design requirements. This makes Cocobar, the perfect beverage stall for your events!
And with Mr. Mahavir Pratap Sharmamentoring and guidance, Mr. Coconut CEO and team are looking forward to achieving new milestones in the B2B and D2C domains!
​Mahavir Pratap Sharma: A Serial Entrepreneur and Dynamic Leader
Mahavir Pratap Sharma is a prominent figure in the world of entrepreneurship and angel investing.
With his exceptional leadership skills and passion for mentoring, he has made a significant impact on various businesses and social organizations. Currently, he holds several key positions, including being the Chairman of the TiE Global Board of Trustees, TiE India Angels, and Rajasthan Angels Innovators Network (RAIN).
And his expertise will certainly help Mr. Coconut reach new heights in the Customized Coconut Industry of India.

Chairman of TiE Global Board of Trustees

Mahavir Pratap Sharma's dedication and expertise in the field of entrepreneurship led him to the position of Chairman of TiE Global Board of Trustees.
Recently elected to this esteemed role, he took on the responsibility of spearheading initiatives and activities of TiE Global. TiE Global is a prestigious organization that fosters entrepreneurship, providing a platform for networking, mentorship, and knowledge exchange among entrepreneurs worldwide. With Mahavir Pratap Sharma at the helm, TiE Global thrived and continued its mission of empowering aspiring entrepreneurs globally.
Empowering Entrepreneurs through TiE India Angels

As the Chairman of TiE India Angels, Mahavir Pratap Sharma has played a pivotal role in supporting and nurturing the startup ecosystem in India.
TiE India Angels is a pan-India angel group that provides funding and mentorship to promising startups. Under Mahavir's leadership, this angel group has gained significant recognition and has become a vital resource for entrepreneurs seeking guidance and financial support to realize their business ideas. With a focus on nurturing innovation and fostering collaboration, TiE India Angels has emerged as a key player in the Indian startup ecosystem.

Co-founder & Chairman, Rajasthan Angels Innovators Network(RAIN)
Mahavir Pratap Sharma's entrepreneurial spirit and commitment to fostering innovation led him to co-found Rajasthan Angels Innovators Network (RAIN). RAIN serves as a platform for startups and entrepreneurs in Rajasthan, enabling them to connect with experienced mentors, industry experts, and potential investors.
As Chairman of RAIN, Mahavir Pratap Sharma has played a vital role in creatinga supportive ecosystem for startups, facilitating their growth and success.
Horses Stable: Empowering Entrepreneurs and Investors
As an esteemed angel investor and serial entrepreneur, Mahavir Pratap Sharma's journey in Horses Stable has been nothing short of amazing. Through his involvement as a judge in this groundbreaking reality series, Sharma has showcased his expertise, passion, and dedication to fostering innovation and supporting Indian entrepreneurs.
Horses Stable, an Indian reality series, has been designed with the aim of supporting the "Atmanirbhar Bharat" (self-reliant India) and "Make in India" initiatives. This groundbreaking show serves as a platform for start-up founders to showcase their ventures and attract potential investors.
Mahavir Pratap Sharma's involvement as one of the esteemed judges in Horses Stable Season 3 speaks volumes about his expertise and reputation in the entrepreneurial community. And with Sunil Shettyas the show's host, this star-studded Startup extravaganza became one of the top choices for entrepreneurs.

Mr. Coconut is Excited About Mahavir Pratap Sharma's Mentorship & Guidance
Mr. Coconut and team are ready to take on new challenges and scale new heights in the Customized Coconut Industry of India. We needed a visionary like Mahavir Pratap Sharma and we are glad that he is onboard with us.
Mr. Coconut CEOShivam Agarwal is excited to start this new journey with Mahavir Pratap Sharma and make Mr. Coconut, the best Customized Coconut Brandin the Indian Market!

The Booming Indian Startup Scenario

In the vibrant landscape of Indian startups, there is an amalgamation of innovation, entrepreneurship, and growth potential. The Indian government, along with various initiatives and programs, has taken substantial steps to nurture and support startups in the country.
Funding Landscape in Indian Startups
The first quarter of 2023 witnessed a significant development in the funding landscape of Indian startups.
According to Venture Intelligence, despite a 66% decrease from the previous year, startups in India managed to raise approximately $5.5 billion. This decline can be attributed to various factors, including the impact of the Covid-19 pandemic and changing market dynamics.
Nonetheless, this funding still exemplifies the resilience and potential of Indian startups in attracting investments.
Startup India: A Catalyst for Growth
Startup India, an initiative launched by the Indian government, has been instrumental in providing startups with the necessary support and encouragement to thrive.
This comprehensive program aims to foster a nurturing environment for startups by facilitating access to funding, mentoring, and networking opportunities.
Through Startup India, the government strives to create an ecosystem that promotes innovation and entrepreneurship.
Funding Insights and Opportunities
The funding landscape for Indian startups presents numerous opportunities for entrepreneurs and investors. Recent reports indicate that from 2015 to 2021, Tier-II city Startupsin India raised a total funding amount of $1.14 billion. This highlights the growing interest and investment potential beyond the traditional startup hubs. Also, this helps open doors& new opportunities for buddingstartups in small towns and cities of India.
Additionally, according to a report by NASSCOM, the Indian startup ecosystemreceived a remarkable $10.14 billion in funding in the year 2020. This demonstrates the attractiveness of Indian startups to domestic and international investors, further solidifying India's position as a hotspot for startup funding.
Mr. Coconut is one of the fastest growing Indian Startups in the customized Coconut Industry of India. CEO, Mr. Shivam Agarwal is actively leveraging funding, closing new deals&contracts and seeking new mentorsand investors to position Mr. Coconut as the top customized Coconut Brand in India!
So, what are you waiting for? Connect with Mr. Coconut today to discuss new deals, funding opportunities and more. Planning a wedding, corporate or casual event? Connect with our experts to book your personalized coconuts and Cocobar, our new concept Coconut Water Stall for Events!