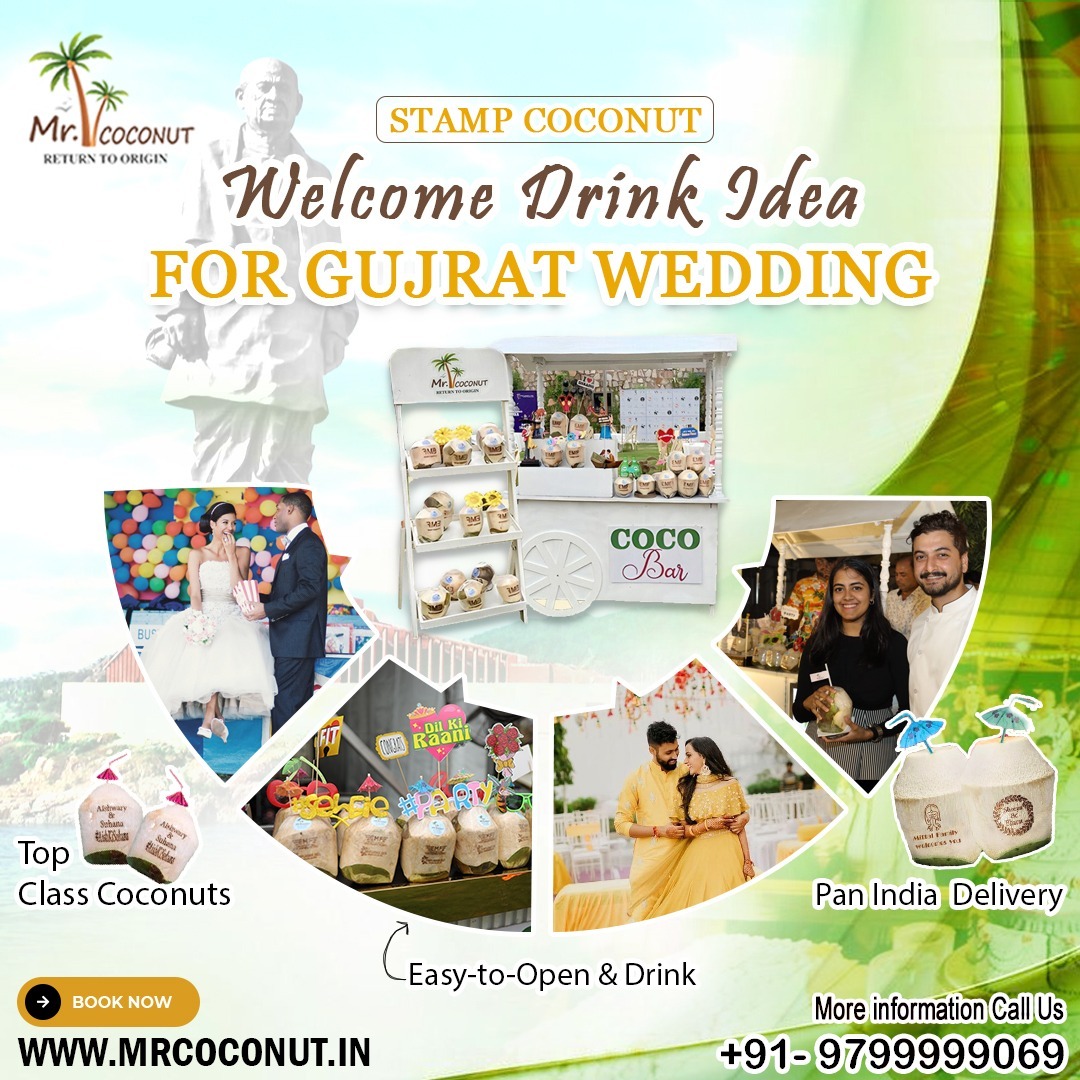 Stamp Coconut– Innovative Wedding Drink Concept for Gujarat Weddings
By: Shivam Agarwal,

CEO & CO-FOUNDER MR COCONUT

| 28 August 2023
Coconuts are an integral part of Indian weddings. From traditional rituals to decor elements, these delicious delights add charm and auspicious symbolism to the celebrations. However, Mr. Coconutis revolutionizing weddings in Gujaratby offering personalized coconutsfor modern couples. Read on to discover how customized coconuts can level up your Gujarati wedding aesthetics and guest experience!
Mr. Coconut is an innovative customized coconut brand that offers a wide range of personalized coconuts for weddings and celebrations in Gujarat. From engraved coconutswith couple engravings to printable portrait coconuts, our creative coconut customization uplifts traditional wedding elements of Gujarat with modern personalization.
Mr. Coconut provides customized coconuts across tier-1, tier-2 and tier-3 cities in Gujarat. Our coconut personalization options include printing, stamping, carving and embossing coconuts with pictures, hashtags, logos or monograms of the wedding couple and event. These creative touches add exclusive memorabilia and Instagrammable elements to your celebrations.
Custom Coconut Options for Your Dream Wedding in Gujarat
Make your big day extra special with Mr. Coconut's innovative coconut customizations:
Print or stamp pictures, hashtags, logos or designs on coconuts as edible wedding favours. The printable coconut is a tasty and sustainable alternative to conventional metal or plastic giveaways.
Engrave Coconuts
Engrave coconuts with monograms, names or short messages using manual tools. The engraved coconut serves as a heartfelt keepsake for guests.
Emboss Coconuts
Emboss personalized portraits, love stories or event details on coconuts for a romantic gesture. The embossed coconut becomes a cherished wedding memento.
With these novel options, you can add unique personalization to coconuts for various wedding events like haldi, mehendi or reception.
Best Custom Coconut Water Brand CEO Shivam Agarwal Shares About Major Wedding Destinations in Gujarat!
Mr. Coconut's customized coconuts are tailor-made for the grand, vibrant weddings of Gujarat. Here's how these innovative coconuts can spruce up celebrations across popular wedding destinations in the state:
Engrave Coconut in Vadodara
Known as 'Cultural Capital of Gujarat', Vadodara is renowned for its historic architecture, art galleries and royal celebrations. Engraved coconuts embellished with couple names, wedding dates or monograms make distinctive takeaways for Vadodara's lavish weddings.
Top Wedding Venues in Vadodara:
The Gateway Hotel Akota Gardens
Sayaji Hotel
Hotel Surya Palace
Hotel Express Towers
Personalized Coconut in Anand
The 'Milk Capital of India', Anand is famed for its dairy cooperatives. Couples can personalize Anand coconuts with cow, milk or dairy motifs that represent the city's legacy.
Top Wedding Venues in Anand:
Ram Baug Palace
Tulsi Banquet Hall Party Plot
Vivaah Banquet & Party Plot
Panchvati Marriage Park
Peeled Coconuts in Gandhinagar
As the capital of Gujarat, Gandhinagar hosts government events and grand weddings. Peeled and polished coconuts customized with guests' names add a warm, personal touch.
Top Wedding Venues in Gandhinagar:
The Leela
Sunday Palm Tree & Resort
Grand Mercure
Fortune Inn Haveli
Monogram Coconut in Ahmedabad
Known for its vibrant culture, savory cuisine and colorful textiles, Ahmedabad is a coveted wedding destination. Monogrammed Ahmedabad coconuts engraved with couple initials or names make heartfelt favours.
Top Wedding Venues in Ahmedabad:
The Grand Bhagwati
Hyatt Regency
Pride Hotel
Cambay Grand AKD Convention Centre
Customized Coconut in Surat
Popular for its diamond cutting and textile hub, Surat is called the 'Diamond City of India'. Customizing Surat coconuts with diamond or textile-inspired prints complements the city's identity.
Top Wedding Venues in Surat:
Courtyard by Marriott
Spice Villa
The Grand Bhagwati
Ginger Hotel
Portrait Coconut in Rajkot
The regal city of Rajkot is dotted with palaces and traditional settlements. Portrait coconuts printed with couple photos suit Rajkot's royal essence.
Top Wedding Venues in Rajkot:
The Imperial Palace
Galaxy Banquet Hall
Citizen Hotel
Emboss Coconut in Bhavnagar
Bhavnagar has a rich maritime heritage as a coastal city and port hub. Emboss coconuts with sea waves, ships or lighthouses as edible souvenirs.
Top Wedding Venues in Bhavnagar:
The Fern
Hotel Nilambag Palace
Efcee Sarovar Premier
Hashtag Coconut in Porbandar
The birthplace of Mahatma Gandhi, Porbandar attracts intimate celebrity weddings. Hashtag coconuts printed with couple names are quirky giveaways.
Top Wedding Venues in Porbandar:
Lords Inn
The Fern Leo Beach Resort
Hotel Sheetal
Shaved Coconuts in Jamnagar
Famous for its Bandhani textiles, Jamnagar hosts colorful weddings. Shaved coconuts engraved with Bandhani prints add local flavor.
Top Wedding Venues in Jamnagar:
Van Vihar, The Tree Resort
Padam Banquet Lawn
Sanskaar Party Lawns
Mitthu Farm
Custom Coconuts in Junagadh
Historic Junagadh is dotted with Hindu temples and Buddhist monuments. Customize coconuts inspired by sacred architecture or religious motifs.
Top Wedding Venues in Junagadh:
Hotel Sapphire
Vishal Lords Inn
Bellevue Sarovar Portico
The Fern Gir Forest Resort
Make your wedding truly unique with Mr. Coconut's Cococart - a customizable coconut stall. Our innovative Cococart offers:
Customizable themes and branding
Portable cart design
Refreshing coconut water
Can be used as Photobooth
You can customize Cocobar as per your wedding theme and use it to serve natural, energizing coconut water to your guests. It also doubles up as a floral or photo booth after customization. Overall, Cococart adds convenience, personalization and refreshment - making it a value-add element for modern Indian weddings.
Mr. Coconut offers tailored coconut customization across pre and post wedding celebrations:
Roka Ceremony - Print or engrave coconuts with the couple's love story for a lighthearted ritual.
Sangeet Night - Print or emboss coconuts with sangeet event details as quirky memorabilia.
Haldi Ceremony - Stamp turmeric stained coconuts with wedding hashtags.
MehendiCeremony - Customize coconuts with mehendi or henna designs for a personal touch to your Mehendi ceremony.
Bachelor's Party - Engrave coconuts with funny messages or bachelor party details.
Bachelorette Party - Emboss coconuts with bachelorette party shenanigans as hilarious keepsakes.
Unique Wedding Favors - Print personalized coconuts as sustainable, tasty wedding favors for guests.
Wedding Reception - Serve customized coconut water as a refreshing reception drink at Cococart!
Return Gifts - Present engraved coconuts as meaningful return gifts to guests.
With limitless customization avenues, Mr. Coconut raises the bar for innovative Gujarati wedding elements.
Conclusion
Mr. Coconut uplifts the humble coconut as a novel, personalized element for modern Gujarati weddings. Our innovative custom coconuts and Cococart add distinctive options compared to common wedding decor or favors. If you're a couple planning your dream wedding celebrations in Gujarat, explore Mr. Coconut's personalized coconuts like Monogram Coconuts&Hashtag Coconuts for an extra touch of creativity. After all, your special day deserves the very best!