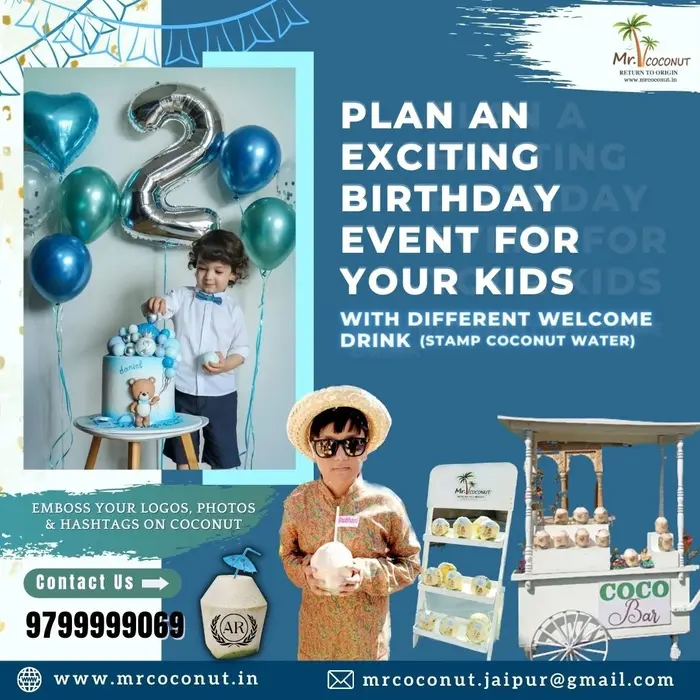 Plan an Exciting Birthday Event for Your Kids
Posted by : Mrcoconut / On : Dec 28, 2022
Birthdays for kids are the most special day of the year. They are a part of the family, and birthday parties are a part of their celebrations. You would love to make your kid feel better and happy on their special day! And so, you throw a grand birthday party! For a successful and memorable birthday, you should plan everything with great care. Guests who come to your kids' party must feel relaxed in their surroundings. You should plan an event with all the things you think will make the birthday special. The most important thing is the snacks and welcome drinks for a birthday party. Mr. Coconut is here to help you serve the tastiest and healthiest coconut drink in India. Apart from being a leading brand, we have created something you can serve at the birthday event of your kids and their best friends!
How interesting and fun would be the birthday party where you present printed coconut water as the welcome drink! You can hire us to serve the best coolest welcome drink for your kid's birthday party. We have our customization team who designs exclusive welcome drinks for birthday events. Coconut water is delicious. It has many health benefits too! Drinking it daily is beneficial for you! It boosts your energy level so that you can lead a healthier life. So, adding this beverage coconut counter for a function would be a unique thing. Mr. Coconut comes up with the brilliant idea of cutting down the over-sugary drinks for kids. Instead, let us serve coconut water as the welcome drink to your kid's birthday party. This is the most creative idea that you can use for your kids!
This Birthday let Non-Alcoholic Welcome Drinks be a Healthy & Personalized Option
Planning a memorable birthday is not an easy job. There are so many things that you have to organize, and all of them need attention. Remember, a birthday party is not only an occasion for your kid but also an opportunity to show your love, care, and affection toward them. It is quite evident that your kids love the gifts hampers you give to them, but they also like the dance floor & the drinks. Mr. Coconut has creative ideas for sparkling welcome drinks for your kids' birthday party. Our unique customized birthday drink is the best way to make a welcoming statement at the door for your child's birthday celebration. We have been practicing his skills in making amazing drinks, and love to make personalized beverages for your child's special day! Come over and let us know what kind of fun prints, images, and designs you'd like on your child's birthday party drinks. There are different types of personalized birthday drinks for kids and non-alcoholic welcome drinks for a birthday party. They may not be healthy, though, as they are made with synthetic colors and preservatives. Mr. Coconut's customized birthday welcome drink is natural, nutritious, hygienic, and delicious! Mr. Coconut is a leading brand that serves delicious, healthy beverages in India. With Mr. Coconut, you will have a hassle-free birthday party celebration. Our team is ready to make the most creative ideas come true! Like, a combination of a birthday gift with a carved nariyal pani!
Coco Bar – The New Coconut Water Stall at Birthday
Coco Bar – Mr. Coconut's drinking brand is a new concept of coconut water stall in India. We are providing the yummiest beverages for your event. Why not add customized drinks for all kinds of events, parties, and functions at reasonable prices? The Stamp/Carved Design over coconut is a new idea for Birthday Celebrations. The signature drinks help you add a royal & fun touch to the celebration. Mr. Coconut provides inspired and fun designs for personalized birthday drinks and standard drinks for kids' parties. A coconut water stall on your birthday is the best way to get a healthy drink at reasonable rates. The stall can be hired for birthday parties or other events in India. Mr. Coconut is one of the leading brands that specialize in serving delicious and healthy coconut water to your event. Logos of the birthday event, birthday party guest's photo, favorite color, theme, etc., can be printed on a coconut shell to make your event even more special! The drinks that Mr. Coconut serves have high nutritional value and taste great! So, why wait any further? Convey your requirements for coconut drinks for your birthday party & Mr. Coconut will be right away to serve you. You can't finish planning the birthday without a cool & customized drink this year!