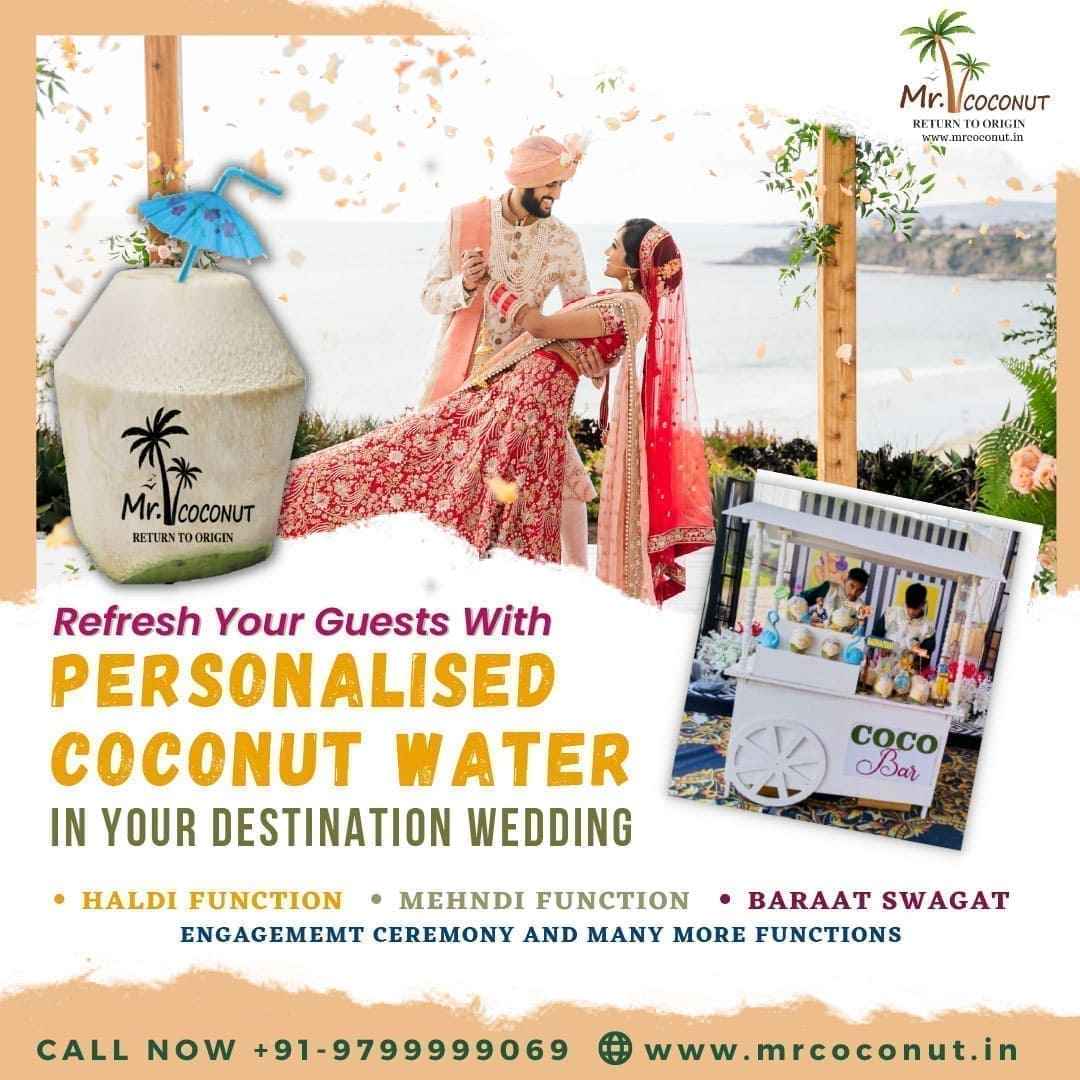 Plan an astonishing destination wedding with Mr. Coconut
Posted by : Mrcoconut / On : Nov 28, 2022
It is undeniable how magical it is to tie the knot with your loved ones in a faraway place.It can be difficult to maintain that magical feeling when it comes to planning a destination wedding, however. Marriage requirements, language barriers, the act of simply getting there, the availability of your guests, the weather, and your wedding budget can all be quite overwhelming. You don't need to worry about anything.
For the perfect destination wedding, here is a guide to help you to prepare before you take off to your dream wedding destination.
Destination weddings: why should you consider them?
Considering a destination wedding? Despite its perceived challenge, planning has many advantages. Here are some of them:
Wedding Planners and coordinators tend to make things less stressful for couples
It is possible to have a cheaper wedding than a traditional wedding - and often is
A great way to spend quality time with your family
It can help you reduce the number of guests you invite
A perfect way to kick start your honeymoon

What You Need to Know When Selecting a Destination Wedding Venue
Choosing a wedding location is the next step after deciding to travel for your special day. The location will greatly influence your aesthetic, your travel time, and your budget. The place you got engaged or your first trip together might be special to you and your partner. Whatever the significance, it's crucial to know beforehand what your travel requirements and restrictions are. You need to inform your guests as soon as possible if there are any concerns (such as vaccinations or quarantines).Once you plan once should always think about the age of the guest. Might it will be difficult for them to journey to the destination? Is it possible for your old members to travel 8- 10 hours?
Make sure your wedding planner is scrutinized
Here is another benefit of hiring a wedding planner–they know the most reliable vendors around. It is important that the wedding planner you hire has first-hand experience working with multiple vendors across a wide variety of categories. Although you can find many options online, make sure you feel comfortable with the one you choose.
You should conduct calls with your planner whether you hire a planner. This will allow you to learn more about them and their style of working, along with a better understanding of who you are as a couple.Gettinga planner at home can be an option if your budget permits it. Just be prepared to pay their travel and lodging expenses.
Organize proper traditional functions for Guests
The guests of your wedding will be excited to celebrate you so make your itinerary as exciting as possible as a way of saying thanks for travelling to be there. Some couples even make their wedding weekend a destination wedding in Jaipur, Goa, Hyderabad, Shimla, Udaipur, Goa, and so on. However, you don't have to go big. You can host the best food catering for the wedding or even a welcome party.Consider organizing a tasting or an afternoon excursion if you're getting married somewhere with food or activities that are well known. It's a great way to bond with your guests and show them the culture of your locale.
Give your guests a welcome bag with a personalized touch
Give your guests some homey comfort when they arrive by giving them welcome bags. You can add the essentials in welcome bags with Mr. Coconut stamp coconut water to give a personalized touch to your wedding. This Monogram Coconut has engraved design of your wedding initial, logo, name, theme, picture, or any design the host want to incorporate. Presenting your guest with this personalized coconut water is a great way to greet them because this stamped coconut water is healthy and tasty which help to refresh and energize the guest for enjoying the functions of your wedding and remove the anxiety of travelling to the destination place.
They used only tender coconuts which are finely shaved and peeled to engrave the design on the shell of a young coconut. Stamp coconut water is not only appropriate for the welcome bag but also can be included in wedding favors to make your gifts for your guest memorable. Along with this, you can also add Mr. Coconut Cocobar's services to your mocktail section. Their services are fantastic and will attract your guests because this concept makes your wedding memorable for you and your guests.