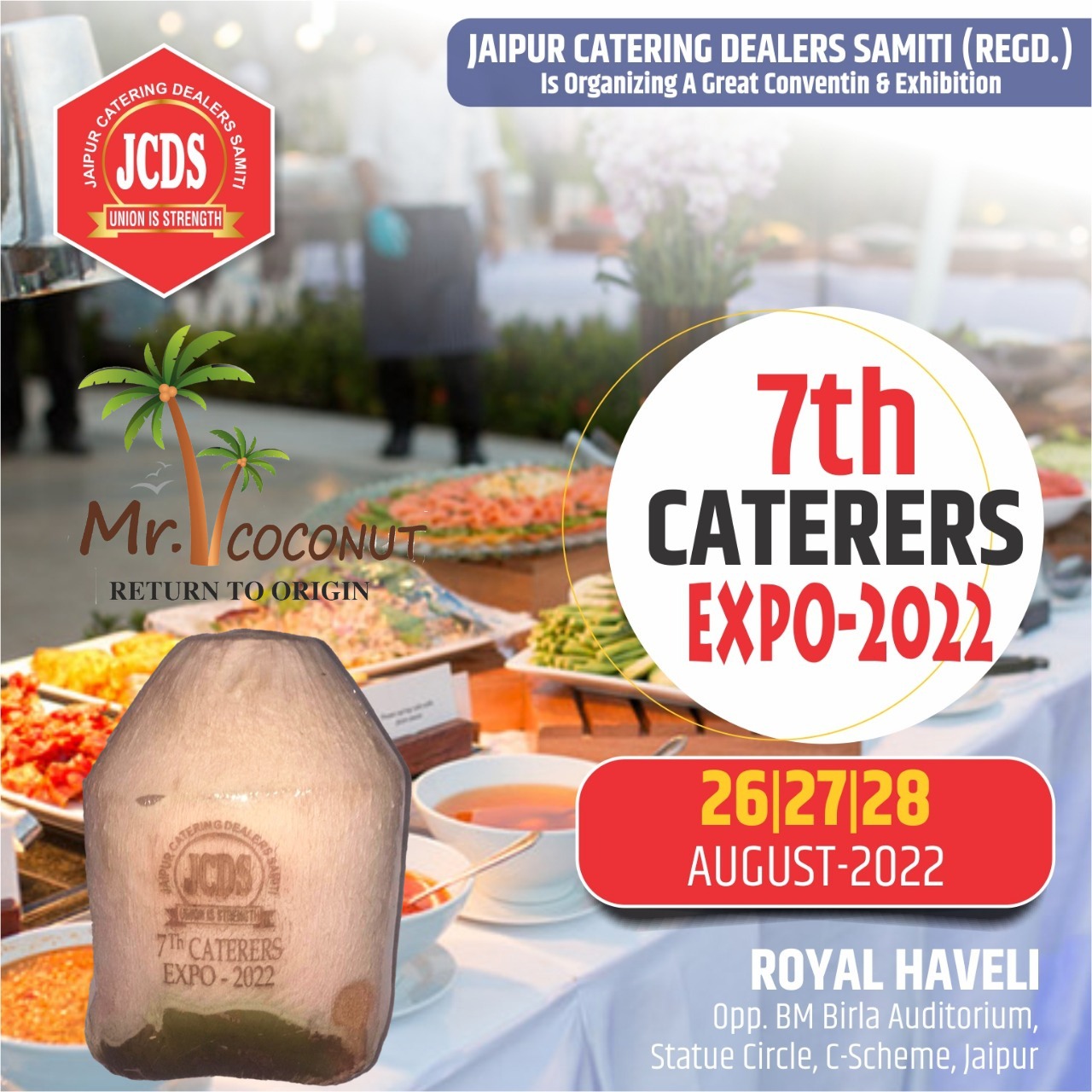 Mr. Coconut is thrilled to be the 7th CATERER EXPO 2022 beverage partner
By: Shivam Agarwal,

CEO & CO-FOUNDER MR COCONUT

| 23 August 2022
The Jaipur Catering Dealer Samiti (REGD.) is organizing a great convention and exhibition that is the 7th caterer's expo 2022, dedicated to all the wonderful caters and it will run from August 26-28.
This 7th caterer's expo will take place at the Hotel Royal Haveli on 26th August 2022 at 10.30 am. During this three-day event, various leading caterers, hotels, and restaurant entrepreneurs will take part from across the entire industry.
In this platform will be provided to them by showcasing all the latest equipment and machinery of the new trends related to the catering, hotel, and restaurant business. This event is industry-leading, so how can Mr. Coconut take advantage of it? What can attendees expect from this EXPO? Check it out!
What happens at JCDS 7th CATERER EXPO 2022
This Expo and convention provided an opportunity for the participants to exhibit their products and services to the most determining people from catering and its associated industries from all over India. In addition, they had plenty opportunity to interact with and get feedback from the most influential individuals about their products and services.
A key highlight of the EXPO 2022
In this event industrialists of catering, hotels, and restaurants from across the country will showcase their products at more than 150 stalls. Entrepreneurs of this sector from across the country will be presenting Crockery, Cutlery, Glassware, Tableware, Kitchen Equipment, Display Counters, Display Prox Chafing, Dish Food Equipment, new items for presentation and catering, Dress materials (Uniform), including items related to making hygienic and healthy food items.
This Expo platform helps them to showcase the trendy and stylish latest equipment and machinery with the new technology related to the catering, hotel, and restaurant business. 100 % growth in business due to easy access to customers with catering, hotel, restaurant products manufacturers, suppliers, and service providers of the country and the state by showcasing a new variety of equipment and machinery, furnishings, and new trend products in the expo.
The expo's main sponsor is Venus Industries Delhi of this three-day expo according to Treasurer Manoj Sewani and General Secretary Ramjeevan. There will be several attractions at the expo, including Anupam Royal Delhi, Sunrise Gift Delhi, HNH Delhi, and Brosline Moradabad. Various central and state ministers and politicians of all political parties will regularly participate in the expo. By observing the demonstration, industrialists of catering, hotels, restaurants of the country, and even the state will be benefited. By meeting with the office bearers of each committee who have attended the expo from Rajasthan, an effort will be made to form an All Rajasthan Caterers Association. The Caterers Expo in Jaipur, which usually takes place every two years, is being organized this time after three years due to Corona.
We are excited to be a beverage partner at the 7th CATERER'S EXPO 2022.
As one of the fastest-growing industries in India, Mr. Coconut has found a way to personalize coconut water by working with experts. The CEO, Mr. Shivam Agarwal, along with his team, has developed an exciting take on coconut water. As an alternative to serving coconut water in regular ways, Mr. Coconut proposes carved coconuts.
Providing healthy, natural products without preservatives or chemicals will leave your guests with a lasting impression they will cherish their whole lives. Mr. Coconut serves only the best quality tender coconut water which is freshly opened in front of your eyes. As an additional bonus, they also introduce their Cocobar services where you can also get fresh and customized coconut water along with mocktails to detox your body and keep you energetic all time. It is a new beverage concept in the form of flavored coconut water to make the drinking experience even better.
Depending on client needs, they provide customized coconuts. Whether you wanted to engrave a photo of the bride and groom, a hotel impression, wedding initials, an event logo, or any other design you want, they carved it beautifully onto the shell of the young coconut. With a coconut water stall, the organization stands out from the crowd while enhancing the atmosphere of the event. Mr. Coconut is extremely excited to be a part of the 7th CATERER'S EXPO 2022. The event will bring together the most-renowned industrialists of catering, hotels, and restaurants to interact and exchange new and innovative ideas about their products and services with the most influential individuals that will help Mr. Coconut get worldwide recognition and get new business opportunities with caterers by combing coconut water at their menu. So, are you excited to be a part of the 7th CATERER'S EXPO 2022 event?