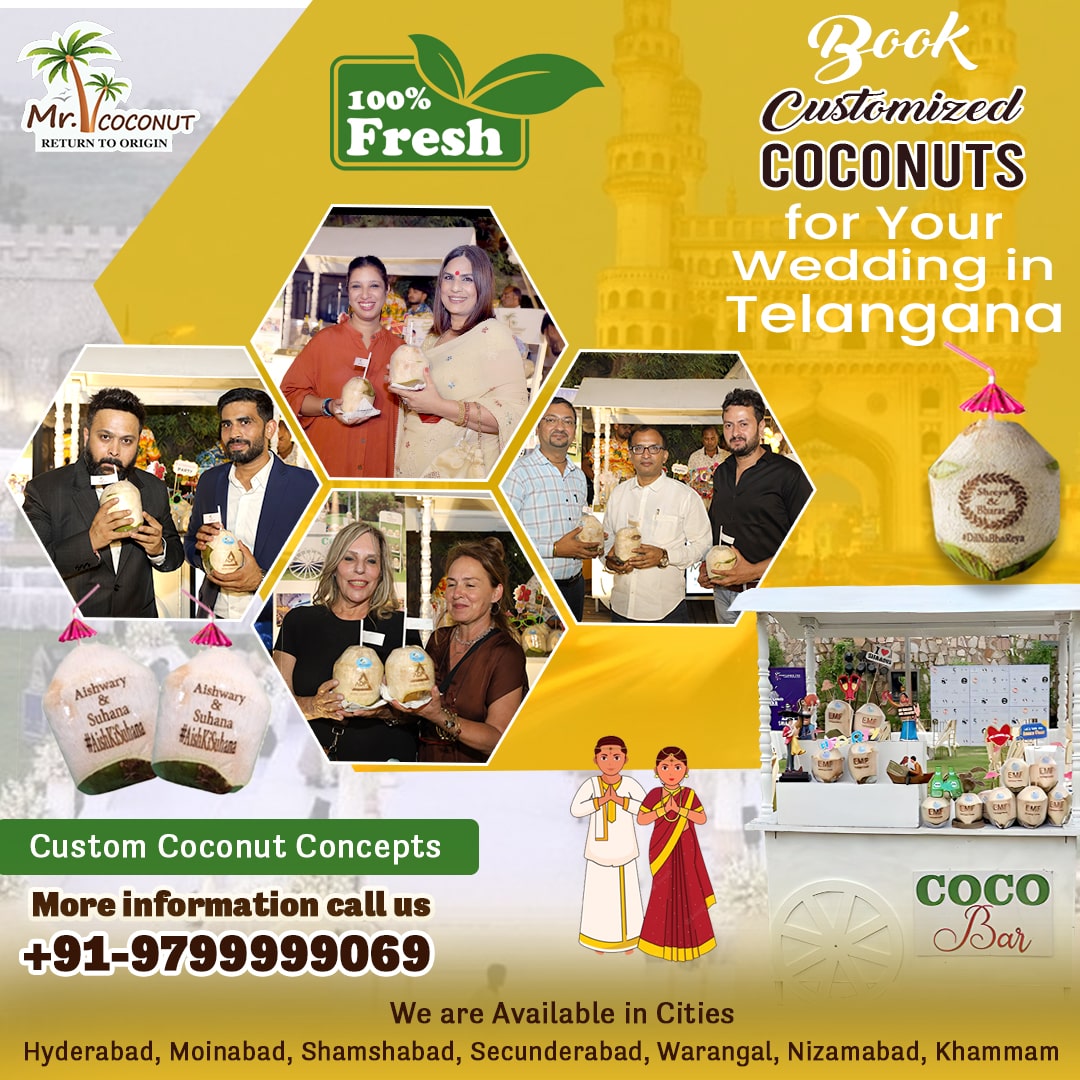 Emboss Coconuts & Custom Coconut Water Stall Now Available for Telangana Weddings
By: Shivam Agarwal,

CEO & CO-FOUNDER MR COCONUT

| 12 September 2023
Telangana weddings are known for their grand celebrations full of vibrant colors, aromatic flowers, delicious food and most importantly - traditions. One such unique tradition is breaking open a coconut during important wedding rituals. Coconuts hold a special significance in Hindu weddings. They symbolize fertility and prosperity for the new couple.
While the ritual of breaking a coconut remains the same, Mr. Coconut is giving it a modern twist! We are a unique brand that provides customized and personalized coconuts for weddings across Telangana. Our printed, embossed and engraved coconuts make for excellent return gifts, decor elements and most importantly a healthy drink. We also provide a customized coconut water stall called Cococart for weddings. Want to know about how you can transform your Telangana wedding with custom coconuts? Read on!
Why Choose Customized Coconuts for Your Wedding in Telangana?
Telangana weddings are grand affairs spanning over multiple days and attended by hundreds of guests. A personalized coconut makes for a unique return gift that symbolizes the significance of coconuts in Hindu matrimony. 
An engraved or printed coconut with the couple's names and wedding date is a thoughtful souvenir. The guests can take this home as a memory of the happy occasion.
A Cocobar counter providing fresh & tender coconut water makes for a refreshing experience for the guests. The Cococart stall also doubles up as a photo booth with its aesthetic décor that is perfect for Instagrammable photos!
Customized stamp coconuts and coconut water stalls add a personalized touch to Telangana weddings. They are sure to delight the guests and help create wonderful memories!
Have Your Wedding at These Popular Destinations for Weddings in Hyderabad with Customized Coconuts
Engrave Coconut in Hyderabad – Unique Wedding Function Concept
The city of pearls shimmers with regal wedding venues like Falaknuma Palace perfect for engraved leaf coconuts. Top venues are Ramoji Film City, GIS Gold Leaf, Novotel HICC.
Personalized Coconut in Moinabad Weddings – Add Personal Touch
Close to the airport, Moinabad attracts lavish destination weddings best suited for printed coconuts with travel motifs. Iconic venues include Button Eyes Resort, Dream Valley Resorts, Zargold Luxury Farm.
Peeled Coconuts in Shamshabad for Your Fairytale Wedding
This airport town lends itself to printed coconuts with airplane designs for guests flying down for weddings. YNR Gardens, The Blue Orchid Farm and Padmavathi Gardens are popular venues here!
Monogram Coconut in Secunderabad – Innovative Wedding Drink
Historic Secunderabad Club is the iconic wedding venue where couples can gift embossed coconuts with vintage car designs. Sree Lalitha Lawns & Convention, Bronze Banquet Hall and Dreamland Gardens are some other amazing wedding venue options.
Hashtag Coconut in Warangal – Delight Your Guests!
With its old-world temples, Warangal calls for an engraved coconut with temple tower etchings. Top venues are Sirastu Banquet Hall, Mithra Convention and Kodam Convention!
Portrait Coconut in Nizamabad Weddings
Scenic resorts in Nizamabad deserve natural coconuts engraved with floral designs. Top wedding venues are VRR Garden & Hotel Kapila.
Emboss Coconut in Khammam
Intimate weddings in Khammam are made special with printed coconuts featuring natural elements. Hotel S Park and Ramleela Function Hall are top wedding venues in Khammam.
Choose from a Wide Range of Custom Coconut Products by Mr. Coconut
We offer a variety of coconut customization options to turn a traditional coconut into a unique wedding favor for your Telangana wedding:
• Names and wedding dates printed, embossed or engraved on the coconut.
• Coconut with the couple's portrait or hashtag carved on it. This makes for a unique memento.
• Coconuts engraved with the couple's monogram - their initials ornately designed.
• Elegant designs like hearts, floral motifs, elephants or peacocks can also be engraved.
• Customization can be done in English, Telugu, Hindi or any other language as needed.
Cococart – Fully Customizable Coconut Water Stall for Weddings
Cococart by Mr. Coconut allows you to set up a refreshing coconut stall at your wedding:
• Our Cocobar stall can be aesthetically decorated as per the wedding theme with flowers, drapes, lanterns etc.
• It can contain a signboard with the couple's names and wedding logo.
• Our staff will unseal and serve fresh coconuts at the counter to your guests.
• The Cococart stall becomes an Instagram-worthy spot at the venue for your guests to click pictures.
Having a customized Cococart for your wedding is sure to wow your guests. The stall will provide a refreshing drink while also creating a memorable experience!
How to Use Custom Coconuts for Different Wedding Rituals in Hyderabad?
While coconuts are most commonly used for the muhurtam or auspicious timing ritual, they can add meaning to other wedding functions too.
• Printed or engraved coconuts given as return gifts for the Mehendi ceremony.
• Coconuts with wedding details used to welcome the groom's family in the Baaraat ceremony.
• Coconuts engraved with voucher to be redeemed for the Cococart stall placed in wedding welcome kits.
• Coconut favors given at the Sangeet or Cocktail Dinner with details of the next day's wedding.
• Customized coconuts for the Reception to conclude the wedding and convey thanks.
Best Coconut Water Brand CEO Shivam Agarwal Shares Testimonials of Happy Custom Coconut Clients
Here is what our happy customers have to say about their experience with Mr. Coconut:
"We ordered engraved coconuts as return gifts for our wedding in Hyderabad last month. The guests absolutely loved this cute and meaningful souvenir!" - Aditi & Vikas
"Mr. Coconut's customized Cococart was the highlight of our cocktail dinner in Secunderabad. It added a fun element while also quenching our guests' thirst on a hot summer day." - Neha & Kabir
Conclusion
So, what are you waiting for? Get in touch with Mr. Coconut to add a personalized touch to your Telangana wedding with customized coconuts and Cococart!